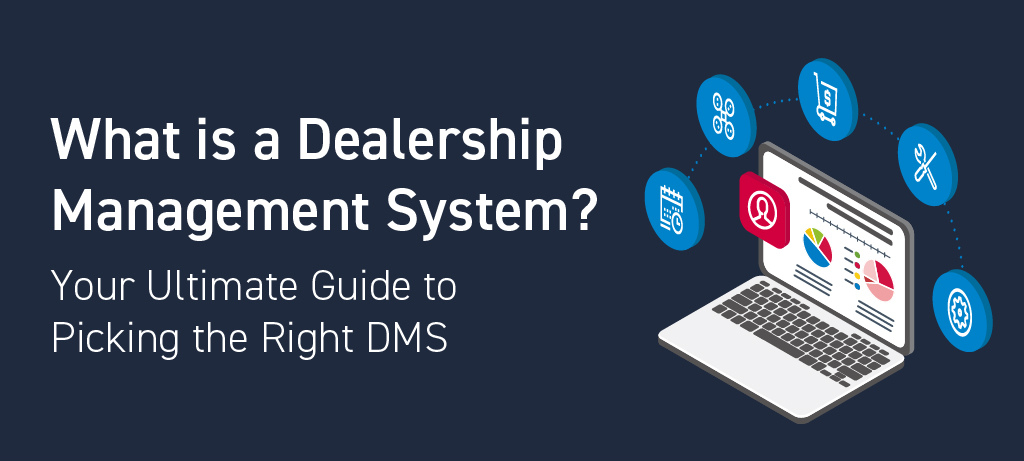 Between everything that goes on at your dealership – from customer service to work orders to invoices – your dealership relies on all its different departments to work together. Nowadays, it's more important than ever that your management system scales with your business, so a dealership management system (DMS) is a tool you might be considering.
But where should you start if you're interested in investing in a DMS or switching to a new one? You're in the right spot. In this ultimate guide, we go over the ins and outs of what a DMS is, who it's for, its key features, how to choose the right one, and why it's worth having one.
Table of Contents
What is a Dealership Management System?
DMS Definition
A dealership management system (DMS) is a business management software provider for dealerships to help them manage their day-to-day business activities. However, most systems tend to be generic and are a one-size-fits-all solution for different businesses. These generic options are not equipped to handle more specific needs tailored to your industry, like parts and service management.
What does a Dealer Management System do?
Think about all the different departments of a dealership – sales, finance, customer service, and so on. A dealership has a lot of moving parts, which is why it requires tremendous organization to keep those parts running smoothly.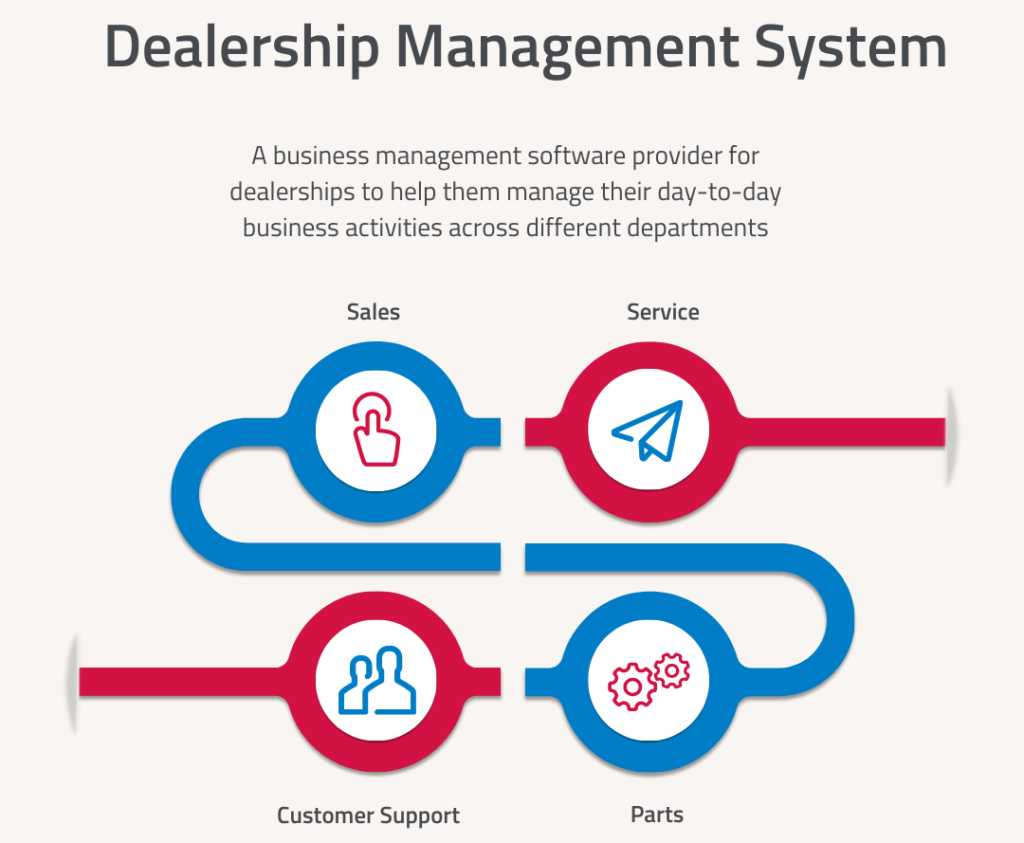 Many dealerships still manually keep track of their departments by using pen and paper or a punch card system, but this can slow down processes and leave room for human error. Although using different systems for different departments may work for a period when your dealership is still small, the reality is that these older methods cannot keep up with the demands of a growing business.
While dealer management systems have advanced significantly over the last 30 years, many industries still lack industry-specific, "all-in-one" systems that are tailored to their business. Dealers will benefit most from a fully integrated DMS that streamlines all the operational areas of a dealership in one place, allowing the different departments of a dealership to operate seamlessly with one another.
Who is a DMS for?
Pretty much every dealership can benefit from having a DMS.
Whether it's sales, finance, service, parts, or IT, a DMS allows dealers to manage all aspects of their business and reduce inefficiencies between departments. Better yet, anyone at a dealership can use a DMS to improve productivity and efficiency, including service managers, accountants, technicians, and more.
Although there are many DMS solutions out there, you will have the most success choosing the one that caters to your industry specifically. For example, if you're an Ag dealer, you will want a DMS that is tailored to your processes, departments, and operational standards.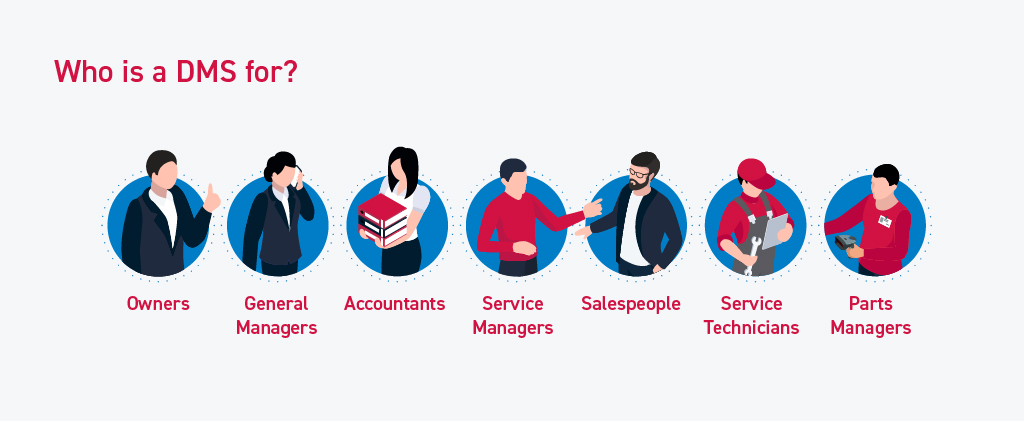 Ultimately, it's not the computer system that will solve business problems – people solve problems. But if you spend several hours trying to figure out what the problem is, then you have less time fixing it. The challenge is that as your dealership expands, your problems become more complex. Dealers with multiple locations or that are growing fast may find that switching to the right DMS solution will help increase their efficiency and resolve those complex problems faster and more effectively.
So, with that in mind, what are some of the most important features that you should look for in a DMS?
What are the Common Features of a DMS?
The features of a DMS can vary between systems, but there are still a few standard capabilities that a DMS should have. We cover each one of those capabilities below so that you have a better idea of what to look for when shopping around for a DMS.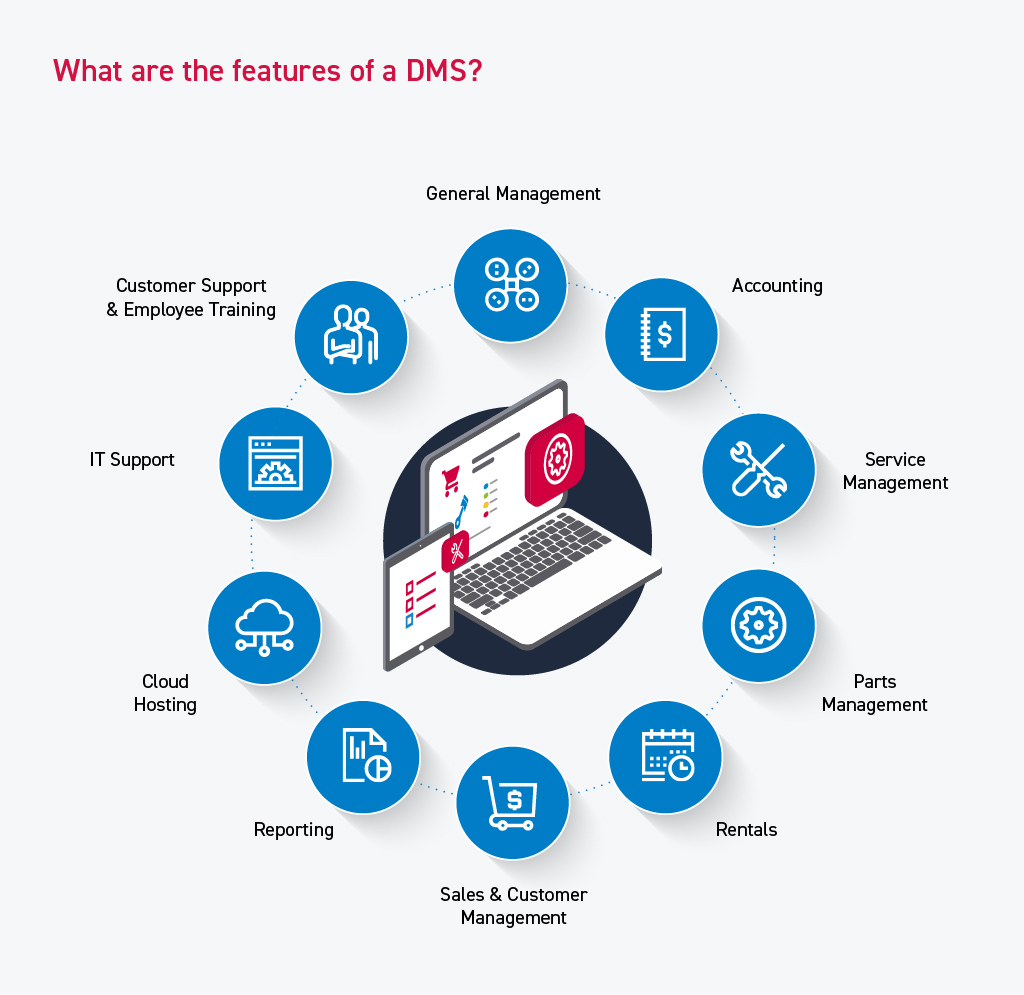 General Management
In terms of management, a DMS should have features that enable you to easily handle all your locations, departments, divisions, and business processes. Essentially, the DMS should be an "all-in-one" package that can cover the most important areas of your business. These must-have management features should enable your dealership to do the following:
Let your employees access all the information easily to do their jobs effectively
Allow dealers to pull up customizable reports in a few clicks
Seamlessly integrate with your suppliers' systems
View live management dashboards and review performance in real-time
Accounting
A proper DMS will be able to automate all areas of accounting, from point of sale to inventory to costing transactions. The accounting module of the DMS should be something that's comparable to what your dealership is currently using or better. Some of the features of a good accounting module will allow you to:
Quickly and easily complete financial reports to communicate with managers and employees across all departments
Create operating budgets, track actual performance, and view the profitability of a specific location or department
Automatically create all transactions relevant to your unit inventory and sales
Recall customer history and information for a better customer experience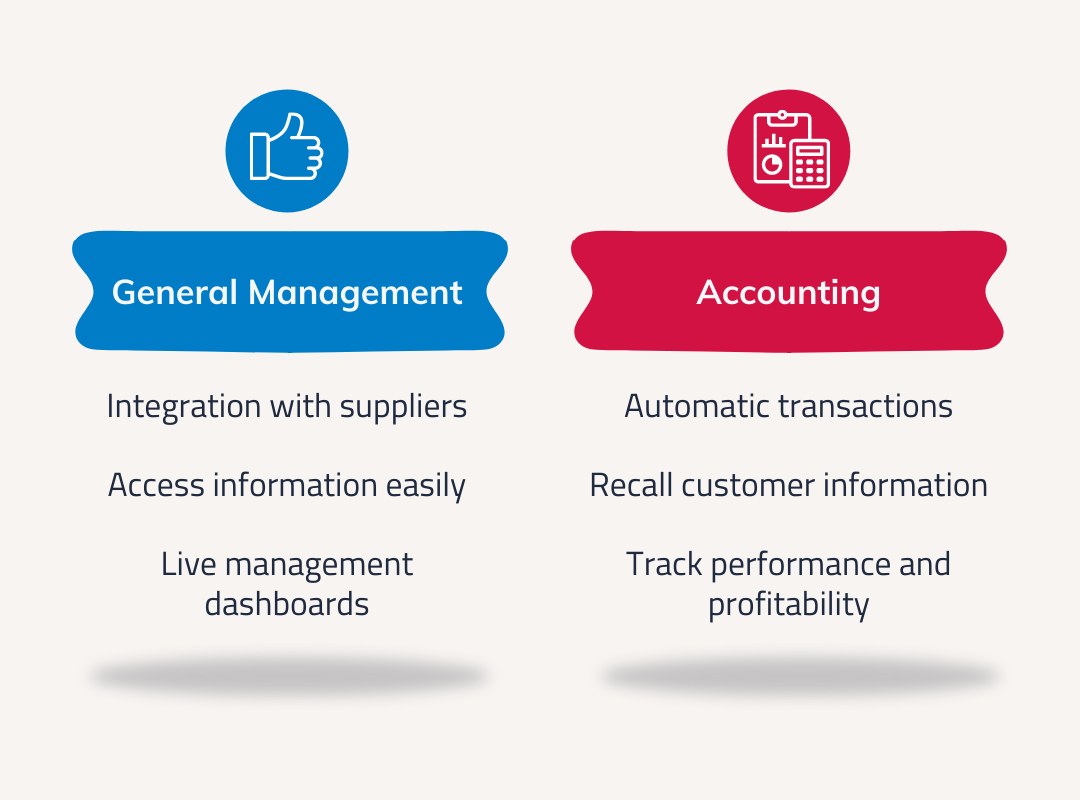 Service Management
A DMS with service management functionality will increase the efficiency and profitability of your service department. It will also give you a clear view of your dealership's service schedule, allowing you to prioritize work orders and meet deadlines. Some additional features that a service management module should be capable of doing is:
Streamline the service write-up process to make it more flexible and faster
Schedule service work so that billable hours can be maximize
Allow technicians to clock in and out easily
Perform quick and efficient repairs and track warranty claims
Parts and Inventory Management
One of the most essential parts management capabilities of a DMS is its capacity for OEM integrations. A DMS that provides OEM integrations enables dealers to manage parts orders more effectively. This means that your dealership will be able to interface directly with key manufacturers and aftermarket suppliers to automate order submissions. For example, DIS has OEM integrations with over 250 manufacturers including CNHI, Kubota, AGCO, and many more.
More than just OEM integrations, a good DMS with parts and inventory management abilities allows your business to track all the detailed service history that was done on any piece of equipment and can be accessed at any moment. It should also be able to:
Automate parts ordering based on seasonal min/max numbers
Easily transfer parts inventory between stores
Point of sale functionality to process counter transactions quickly
Integration with EMV chip-based credit card payments to speed up payment processes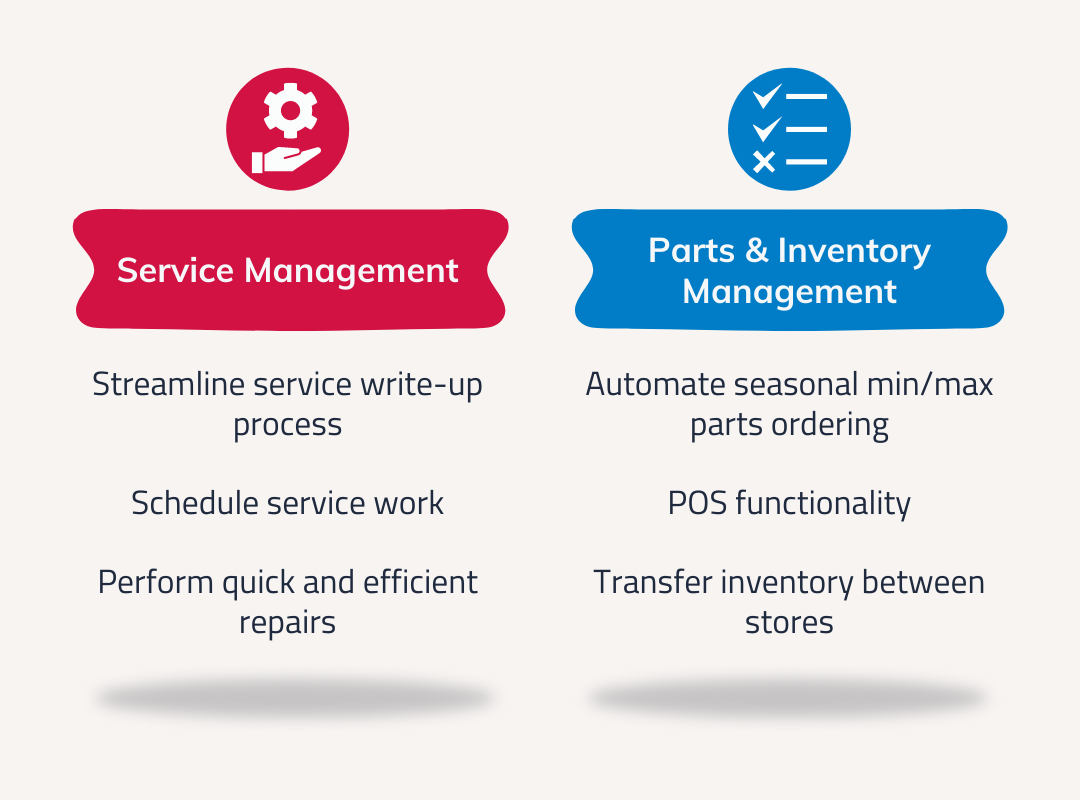 Rentals
Another important feature of a DMS, which may not be as a readily obvious as some of the others, is fleet management. A good DMS will provide your dealership with a comprehensive fleet analysis, giving full visibility of what is happening with each of your rental units at any location. Some important metrics that a DMS should have to help you monitor and assess your fleet's performance include:
Total cost of ownership
Cost per hour
Efficiency analysis
Historical trends
Sales & Customer Management
Sales and customer management features in a DMS will help your salespeople maximize the number of closed deals. A decent DMS should be able to provide your salespeople with the ability to:
Show customers high-resolution photos of units and products and easily prepare quotes
Access real-time information about dealer installed options, internal work orders, etc.
Access up to date customer information from mobile devices using iOS or Android
Easily build and sell custom order units with standard features and include manufacturer and dealer installed options based on the unique requests of prospects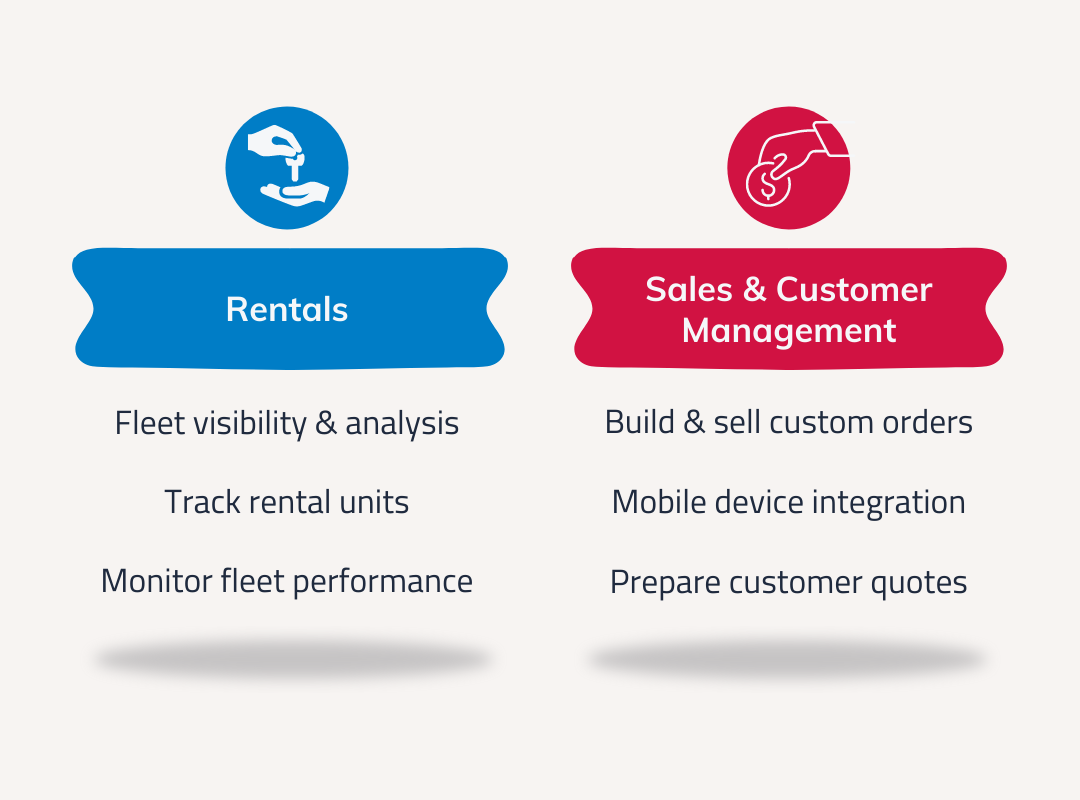 Reporting
The reporting functions of a good DMS will be able to track dealership data for all departments, pinpoint bottlenecks and inefficiencies in your dealership, and generally allow you to maintain a birds-eye view of your dealership's operations. Most systems have sophisticated reporting features that allow you to measure your dealership's KPIs and get an idea of how the business is doing in comparison to other businesses in the region or across the country.
For example, DIS's MyPortal has features for billing, accounting, and reporting that would typically take a long time to generate, execute, and deliver. More narrowly, the module provides customers with:
Access to a personalized online account where they can automate most of their actions with the dealership
General overview of their expenses
Ability to download details on all their units, work orders, and invoices
Allow customers to see the status of each invoice and make payments
Cloud Hosting
Although many dealers still use on-site servers, switching to a cloud system offers major benefits and is an option that a DMS should be offering. Cloud hosting has many advantages:
It can save your dealership money on computer hardware maintenance, electrical power, and added office cooling and server replacements
It eliminates the time spent on regular software updates, back-ups, and failed parts replacements.
Freedom to access system data from anywhere because it is internet-based and no onsite server is required
Server and data security, including security against cyberthreats like ransomware, and in the case of unforeseen circumstances, you can quickly restore your full business system with no loss of data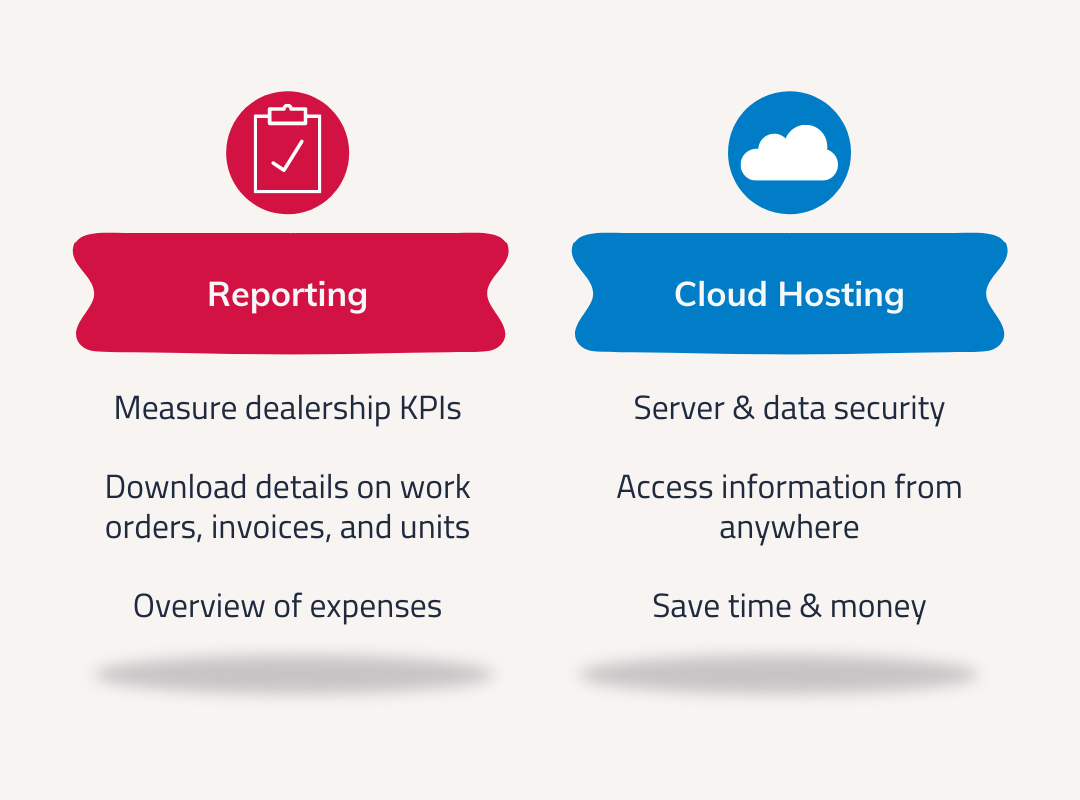 Customer Support & Employee Training
Ongoing customer support and training are essential features that a DMS vendor should provide. This gives employees an opportunity to learn about the system and be able to use it to its full extent. It is not enough for a vendor to just give you the software, but they must also be able to provide ongoing customer support and training in the following ways:
Provide customer support on days and hours that are suitable for your dealership
Provide training through webinars, guides, or remote sessions
Deliver more than one way of submitting and tracking an incident – e.g., telephone, email, web portal.
For example, DIS continues to assist your dealership even after the software has been installed. You can see the dedicated hours that our support team is available here.
IT Support
A DMS is only as good as the infrastructure platform it runs on.
The vendor should be able to provide a secure environment for your software and hardware and continue to solve technical issues as they arise. Other aspects to take into consideration when it comes to IT support is to determine whether the DMS does the following:
Business data is backed up automatically and stored offsite
System updates occur without the dealer's intervention
IT support should always be available to keep your system running properly
Learn more: Dealership Management System Features to Look For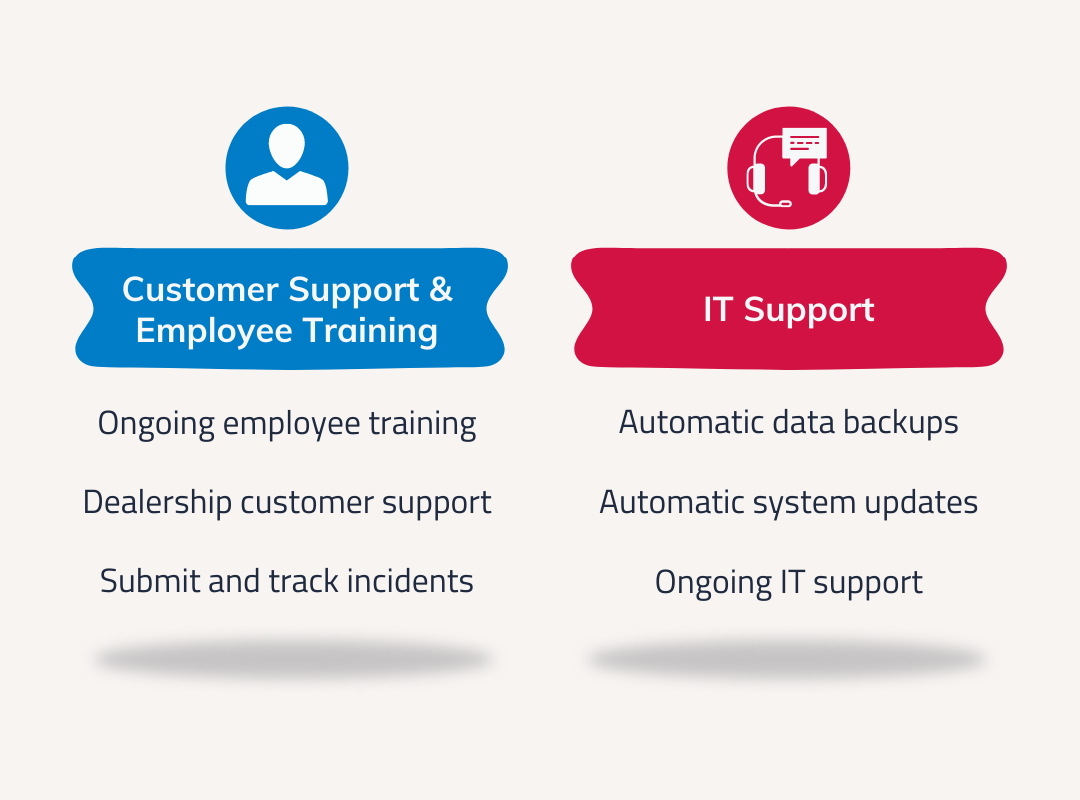 How to Choose the Right DMS for Your Business
There are many generic software platforms to choose from that can address different aspects of your business. However, these generic software solutions typically cover only one aspect of your business, such as accounting, so you end up paying for different systems that may or may not be suitable for your dealership and end up slowing you down.
For example, using a broad software solution that was created for accounting to service all types of businesses may not necessarily be the best option for satisfying your specific accounting needs as a farm equipment dealer, construction equipment dealer, lift truck dealer, and so on. A fully integrated system will have native accounting built-in from scratch that incorporates industry-specific modules.
The good news is that there are dealership management solutions created for specific types of dealers. But if you're not aware of the available options, you may end up with a disappointing generic platform. At the same time, it's difficult to sift through all the generic options out there to find your industry-specific DMS.
That's why, as part of the ultimate guide, we've included tips to help you cut through the noise and ensure that you choose a fully integrated DMS that suits your unique dealer needs.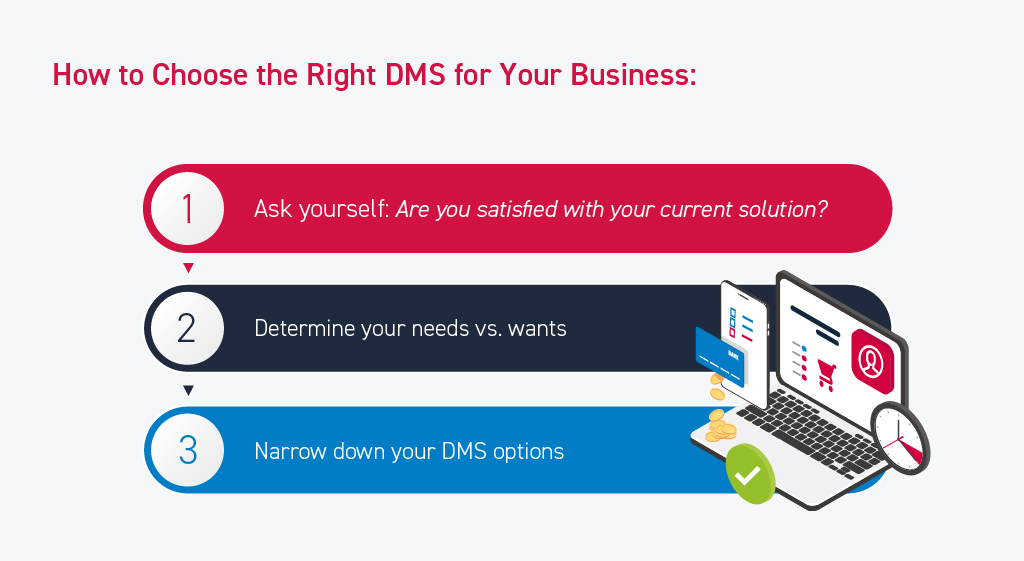 1. Is Your Dealership Satisfied with Its Current Solution?
Think about how your dealership is operating:
What areas could be improved?
What is the dealership doing well?
Is the dealership hitting all its KPIs using its current software?
What are your dealership's short-term goals?
What are your dealership's long-term goals?
These are a few questions to get the ball rolling on whether implementing a DMS is the right step for your dealership. Depending on your answers, you might decide to hold off on employing a DMS. After all, implementing a DMS will cost time, money, and resources. But it might also be worth it in the long run.
To that end, it's important to recognize what your dealership's short-term and long-term goals are as well. For example, if your dealership plans to expand to multiple locations in the future, then it may need a DMS that can instantly update the inventory across all its locations. This leads us to our next tip…
Read next: George Russell's Good to Great Dealership Flywheel Guide
2. Determine Your Needs and Wants
A dealer's needs and wants will ultimately depend on what its unique goals are as a dealership, which you will already have some sort of idea about by this point. Depending on the dealer, it may or may not include all the key features of a DMS we covered earlier, and that's OK. The DMS you choose though should at the very least be able to satisfy your most important needs.
Needs are the non-negotiable aspects of a DMS that a dealership absolutely requires to operate. For example, if a dealership outsources its payroll through a third-party company, then the accounting features of a DMS may not be the most burning need for the dealer to consider when choosing a DMS.
Wants are the capabilities of a DMS that a dealership doesn't have to fully rely on to manage its operations effectively. Wants are also much more flexible than needs in that regard because they could be features of a DMS that you may decide to implement later on, whereas your needs are more time-sensitive.
3. Narrow Down Your DMS Options
Identifying and separating your needs and wants is an important step prior to narrowing your search for a DMS. After you've separated them, then you can take the time to really dive in deep and explore the different DMS options for your business. If you're reading this now, it means you're on the right track and doing your due diligence to research as much as you can on the available DMS options for your business. As you research different options, keep an open mind.
In addition to online research, it is also a good idea to ask others for their advice and help. Reach out to friends, family, coworkers, and others in your network who may be able to share their personal insights. Once you've identified DMS solutions that seem to hit the sweet spot, create a list where you can neatly keep track of the options you are considering and the features they come with.
Want more tips? Read our guide for how to select the right dealership management system here.
When Should You Buy a DMS?
Investing in the right DMS is not a task that should be taken lightly. There are several other things to take into consideration before committing to a DMS.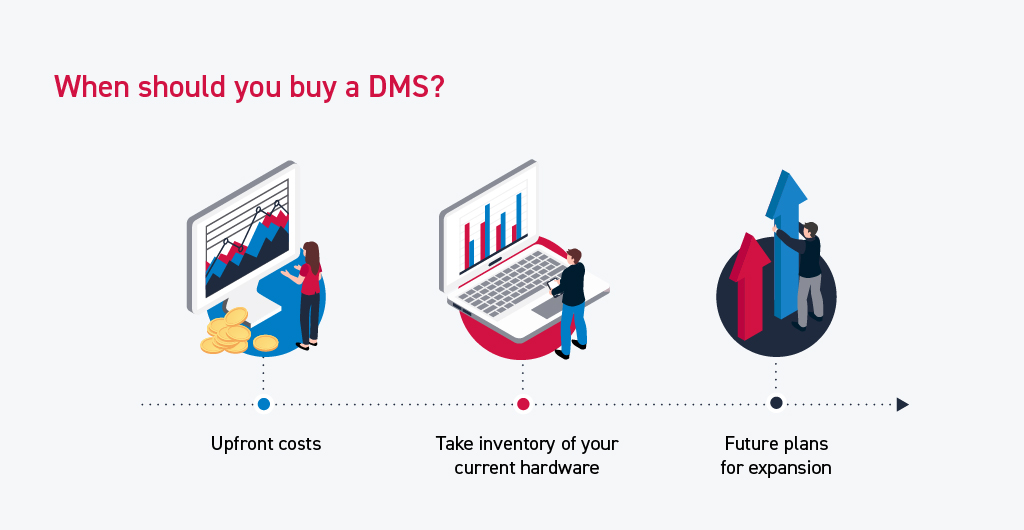 Upfront costs
These include software, employee training, hardware costs – and other ongoing fees that should be anticipated. For example, employee training can be time-consuming but an easy-to-learn DMS can reduce some of those upfront costs. You can also use our ROI calculator to find out what your potential savings could be by switching to DIS as your DMS.
Take inventory of your dealership's current hardware
Is it up to date? How much needs to be changed and how long before the hardware needs to be updated? A good DMS should provide you with the necessary hardware changes and ongoing support. Take a look at Appling Motors, their business has been supported by DIS through several significant technological changes, the most recent being switching their hosting from on-site to DIS Cloud Hosting.
Does your business have plans to expand to more locations
Does the DMS provider have decent experience in the industry? Are they able to expand their system alongside your business's growth? Is it able to think several years ahead? A good DMS will be able to help you keep track of operations across multiple locations and over time. That's how the Wickham Tractor Company was able to scale up from two to five locations with DIS.
Lastly, take your time
Implementing a DMS in your dealership will ultimately change the way you are used to doing things. At the same time, trust your instincts. The right DMS allows you to manage all aspects of your business more effectively, increase sales, and ultimately help grow your business.
Conclusion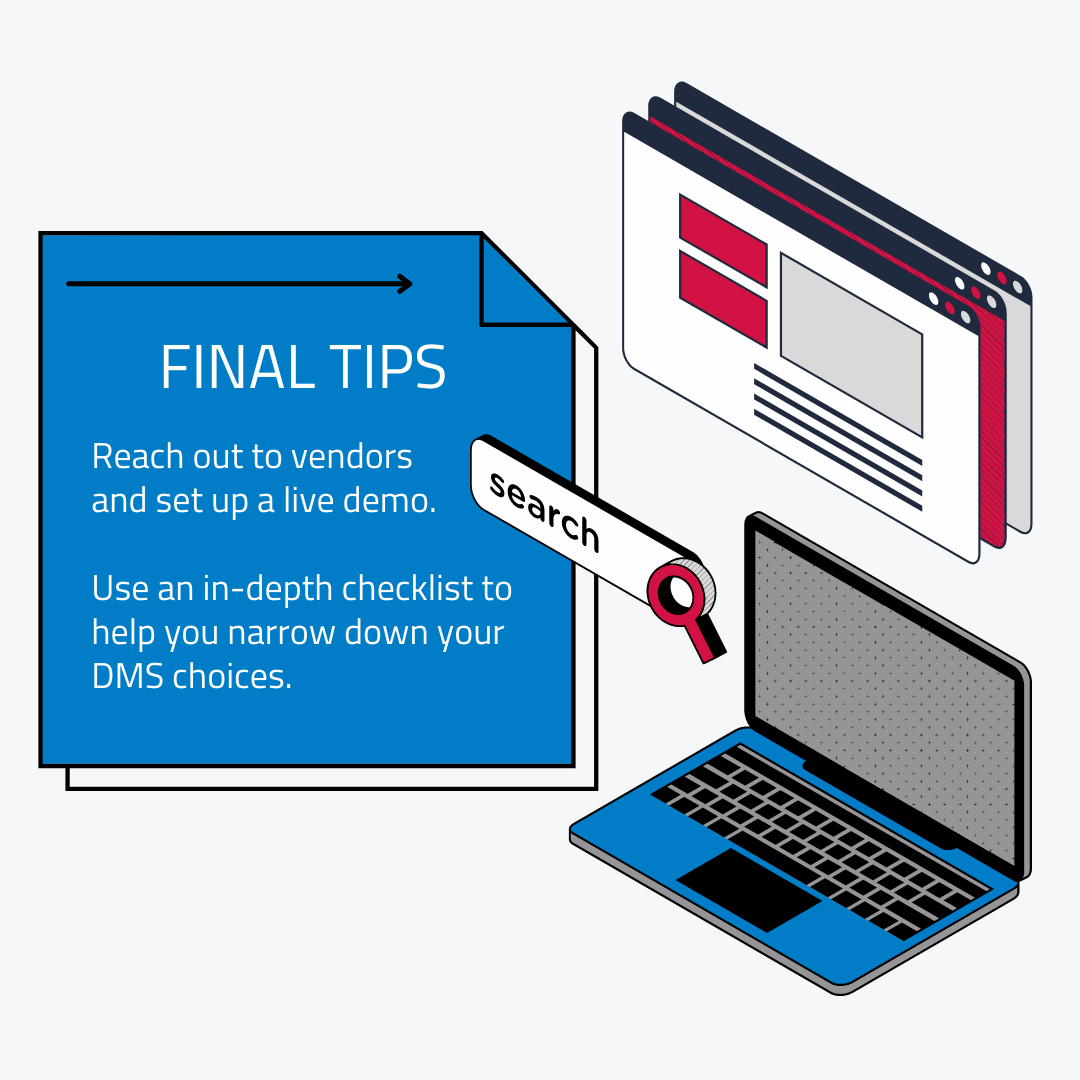 Once you've got your list of DMS options based on your prior research, you can begin to narrow it down. Reach out to vendors and set up a live demo so you can see first-hand how the DMS operates.
Most importantly, don't go into the demos unprepared. Research the DMS beforehand and come up with a list of questions that may help you narrow down your choices to a final few.
To help you with that, we created an in-depth checklist that you can use to evaluate how well each DMS you're considering will be able to meet your current and future needs. Download the free checklist here: