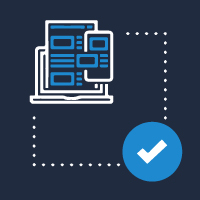 Dealership management software is the core and backbone for nearly every agricultural, lift truck, construction, and truck refrigeration dealership in today's world. Systems like this constantly evolve to make dealerships more productive and profitable.
If you haven't given your system much thought lately, that's a good thing. It probably works!
But for those of you thinking about it more often… well, you're probably getting headaches from the continual crashes, slow user experience and lack of integration you're due to a likely outdated system.
Technology increases dramatically each year, so it's crucial to have a dealership management system that integrates each department and can help store customer information, transactions, service history, job tickets, inventory and more.
Deciding to implement a new dealership management system is usually the easy part, complicated by figuring out what each software promises and comparing each of their strengths and weaknesses.
Right off the bat, we're going to advise you to choose a system that is tailored to your dealership, fully engages your staff, increases customer satisfaction and improves transactions. But there's so much more to it than that!
Here are the 8 features you should be looking for when shopping for dealership management software.
1. Overall system control
Make sure your top priority in selecting software is overall usability. Look for a system that is simple to use and will be an easy transition across all departments. It needs to meet these important basic qualifications:
It was built to last years and adapt to future growth
It completely integrates all your departments, divisions and processes
It is capable to handle all your locations and employees
You can view live management dashboards and review performance real-time
It can operate similarly on PCs, tablets and mobile devices and can be accessed anywhere
It can function effectively out in the field
2. Financial management
Your financial information is some of your most important (and private) information. You want to make sure you can quickly access it to make confident decisions and to review the well-being of your organization. Your software should always be able to manage cashflow and payables, track and allocate expenses, house past transactions, monitor and collect outstanding balances and easily run financial reports for you.
3. Reliable purchasing capabilities
Your purchasing system is vital to cashflow, inventory and more, so the more automated the purchasing functions, the more benefit you'll get from a system that is efficient and reduces costs for you.
To help your dealership operate efficiently, your system should be able to analyze purchasing information, create purchase orders based on past history, automatically process order receipts and payables and track all purchases.
4. Increases sales
Ideally, your software should provide all the information you need to sell your products and services quickly and efficiently. It should positively impact your dealership's sales system by allowing your salespeople to pull up high-res photos and specific product details, prepare quotes and invoice all from a tablet or smartphone on location.
It should be able to standardize follow-up processes and track each salesperson's productivity.
In other words, your sales people should love this software. It should be able to help them through all processes of the sales cycle, start to finish.
5. Maintains control of parts
Maintaining control of parts inventories, while providing adequate turnover and margins is an important part of operations.
And the good news is that your software should be able to provide you with accurate inventory levels at all times, make it easy to transfer parts from one store or location to another, include a point-of-sale functionality and make it easier on you to run monthly, quarterly and/or yearly inventory counts.
6. Service and warranty management
A high-quality system should be able to help you manage and keep track of your technicians' appointments and provide up-to-date parts and customer information. This will help maximize billable hours and increase efficiency and productivity throughout your service department.
7. Secures important information
Your dealership is only as good as the platform it runs on. So, if your hardware and network is not capable of providing a stable and secure environment for your software, it's time to make changes.
Make sure your system is automatically backed up and has security controls, so employees can access the information they need, while safeguarding and protecting the data they don't need access to.
8. Provides support and training
If your employees know how to use your dealership management software to the fullest, it will enhance their job performance.
Make sure you have built-in training and support from your system provider and be sure that the support is available during the days and hours you need. You should always receive training (preferably on location) and/or user guides when you purchase and implement a dealership management system.
When you invest in dealership management software, you invest in a relationship, a partnership – not just the product. You expect a solution to meet your needs and future goals, alongside a support system that will be there to lead and help each department of your dealership run smoothly.
Did you know that many dealerships are still woefully underserved by their current management systems? We've discovered it's because many don't know how to determine whether a system can meet their needs or not.
We've developed a free Dealership Management Software Evaluation Guide, complete with a checklist for each department so you can find out:
What makes a good dealer management software package
What areas of your business a good dealer management system should cover
How to evaluate a dealer management software vendor
And much more!