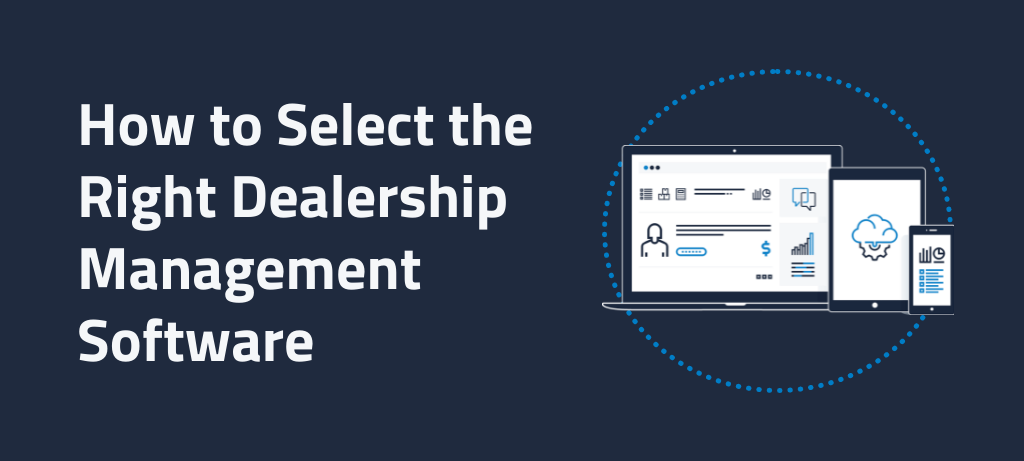 Did you know that industry-specific dealership management systems have been around for more than 35 years? In that time, they've advanced quite a bit.
So, it's strange then to see so many equipment and machine dealerships go for the more "generic" systems on the market. If your dealership system covers only a handful of areas of your business, like accounting and inventory for example, then it's not a good system. Given that you're reading this, we're going to assume that you already know this, which is why you're seeking something better.
However, you probably also have doubts – especially since the majority of proper systems are not exactly cheap. How can you know that the system will be worth the money? How can you evaluate a system and make sure it has enough features to be considered "proper"? How can you know with certainty that the vendor is worthy of your trust?
All of these are legitimate concerns. To help you address, we put together the list of things you need to consider when shopping for a system. Here's what you need to make sure of:
1. The DMS is an "All-in-One" Package
The most important aspect of a proper dealership management system is that it's all-inclusive. You don't want something that can only cover some areas of your business, but not the others.
Here are some must-haves that you need to watch out for:
It can easily handle all your locations, departments, divisions and business processes
It lets your employees access all the information they need to do their jobs effectively
It allows you to pull up customizable reports in a matter of clicks
It integrates with your suppliers' systems
2. The DMS Has Decent Accounting Capabilities
If you're already using an accounting system, you'd want something that's either comparable or better. So, make sure the accounting module of the system you're looking at allows you to:
Quickly and easily complete financial reports that help you communicate with managers and employees in various departments
View the profitability of a specific location or department
Access historical vendor information online
Track and allocate expenses sufficiently
Create operating budgets and track actual performance and variances
Retain sufficient historical transaction details
Recall customer history and information to provide a great customer experience
Monitor and collect outstanding balances in an efficient manner
Automatically create all the transactions relevant to your unit inventory and sales
Scan and store original documents from external sources
3. The DMS Provider Has Enough Benefits for Your Salespeople
A proper business management system should have enough features to help your salespeople maximize the number of closed deals. If the system offers nothing to your sales team, then it's not inclusive enough.
With that in mind, if the system's sales module lets you and your salespeople to:
Show customers high-resolution unit photos and specific product details as well as prepare a quote, using only a tablet or smartphone
Access up-to-date customer information through a tablet or a smartphone
Standardize your follow-up processes and track individual salesperson productivity
Easily build and sell custom-order units with standard features as well as manufacturer- and dealer-installed options when working with prospects
Accurately track the true cost of a unit, including preparation charges, additions and internal work orders
Access real-time information regarding dealer-installed options, internal work orders posted against the unit and work in progress, so that you can make informed decisions in the sales process
4. The DMS Can Help You With Purchasing
A purchasing system is yet another vital component of a proper dealer management system. The idea is that the more automated your purchasing functions are, the more you'll benefit from greater efficiency, reduced costs and fewer errors.
So, make sure the system can let you do the following:
Easily analyze purchasing information
View automatic parts suggestions when putting together purchase orders
Create purchase orders based on past sales history, seasonal fluctuations in activity as well as established minimum and maximum inventory levels
Automatically process order receipts and create manufacturer parts returns
Track and manage purchases from the less-frequently-used local suppliers and automatically link those costs to open work orders
5. The DMS Has Parts Management Abilities
A good system should allow your parts people to easily manage stock levels, ordering and everything in-between. So, if the system has nothing to offer on that front, then you should consider looking elsewhere.
Here's what you should be able to do with a proper parts module:
Handle the special ordering of parts in an automated and efficient manner
Include a point-of-sale functionality, which lets you process counter transactions quickly and efficiently
Use barcode scanners at point of sale and for perform physical inventory counts
Accept new EMV chip-based credit card payments
Integrate with your key manufacturers for automated order submission
Run accurate gross profit reports on a daily basis
Generate accurate inventory valuation reports
Easily transfer part inventory from one store to another
Handle various discounting policies in a streamlined fashion
6. The DMS Can Increase Your Shop's Profitability
What's equally vital to a good system is proper service management. An efficient service department can allow you to significantly increase your dealership's overall profitability.
So, if you think your techs could be a little more productive, make the service module you're looking at can allow you to:
Streamline the service write-up process, making it more flexible and fast
Schedule service work in a way that lets you maximize billable hours
Handle internal work orders for pre-delivery preparation in an effective manner
Perform warranty repairs quickly and efficiently
Track all your warranty claims, so that none of them ever get lost
Ensure your technicians clock in and out of jobs easily
7. The DMS Has Good Hardware and Network Support
No matter what software solution you are currently using, it's only as good as the infrastructure platform it runs on. If the vendor is incapable of providing you with a stable and secure environment for your software, you will not be able to use it to its full potential.
Here's what a good vendor should be able to do for you:
Protect critical information from being lost due to natural disasters like earthquakes, floods and so on
Automatically back up and store dealership data offsite each evening using cloud hosting
Provide adequate security controls to protect certain information from being accessed by your employees and other unwanted parties
Deliver sufficient IT support to manage your dealership's anticipated growth
Read Next: 5 Benefits of Adopting Cloud Computing at Your Dealership
8. Customer Support and Training are Both Readily Available
To ensure you and your employees know how to use your software, you need to know how it works. That's why training and customer support are both essential if you want to take full advantage of the software.
So, make sure of the vendor is able to do the following:
Provide the support on the days and hours that match your needs
Deliver more than one method of submitting and tracking a support incident, including telephone, email and web portal
Connect you with industry experts who have real-world knowledge
Provide training via prerecorded online tutorials, remote sessions over the internet and in person
Give you access to sufficient software documentation, both online and in printed form
9. The Dealership Management Software Provider is Worthy of Your Trust
When you invest in a business software solution, you are buying a relationship, a partner – not just a product. So, naturally, you should expect the vendor supplying you with the solution to be around for many years.
So, when examining the vendor, make sure they are:
Have decent experience in the industry
Financially stable
Able to expand the system to meet your future growth
Able to think several years into the future
Use a Checklist to Select the Right Dealer Management Software
At this point, you can probably see how much there is to consider when shopping for a dealership management system – a lot. So, to keep all of that straight, we recommend that you carry a detailed checklist.