Technology moves faster than we can keep up with. But when you have the support of a team you can trust, upgrading your tech doesn't have to feel like a roadblock. Instead, it can feel like giving your business a tune-up.
That was the case for Appling Motors, a tractor dealership that has been in business for 60+ years in Baxley, Georgia. Their clientele began as mostly farmers but over the years, they have expanded to cater to both farmers and consumers.
Like many other dealerships, Appling Motors know that to keep their business running smoothly well into the future, their technology needs to advance with them. Customers of DIS since the 1980s, Appling Motors used DIS' support throughout several big technological advancements, from upgrading from IBM System/36 to AS/400 to Y2K upgrades and more recently, switching their hosting from on-site to DIS Cloud Hosting.
We chatted with Connie Arnold, Bookkeeper and Treasurer at Appling Motors, to learn how switching to DIS Cloud Hosting has helped make their processes smoother and their data more secure.


Can you tell me a bit about yourself?
Connie: "I became employed here in 1993 as the Bookkeeper and Office Manager. I also kept the hardware and software updated, as well as any changes that needed to be made to the equipment."
Why did you choose DIS as your dealership management system?
Connie: "DIS seemed to be the glove that fit agricultural businesses. There's a dealer in West Georgia that was a real good friend of the owner here, who also purchased DIS. They're still using DIS and are very pleased with it. I have also recommended DIS to a construction dealership here and they have purchased it as well. DIS has just been a solid company."
What was your biggest reason for moving from on-site hosting to DIS Cloud Hosting?
Connie: "Our old system, the IBM AS/400, had become a dinosaur. I had personally replaced every part in it over the years. It was getting harder and harder to get it to physically do the work. There was equipment we couldn't find parts for. We looked at DIS Cloud Hosting, got some different quotes from different companies, and decided DIS was very reasonably priced.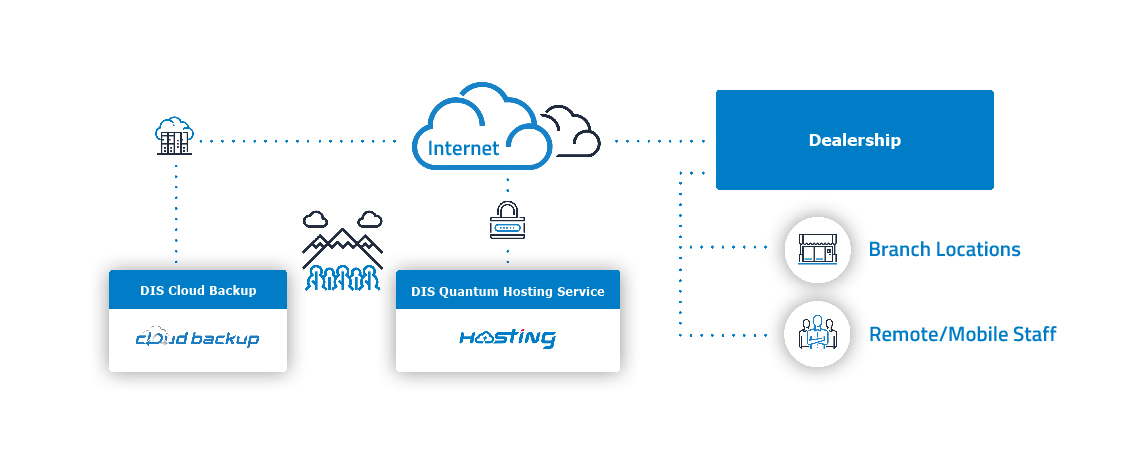 It took a lot of worry off me to keep equipment running. We're in a rural area in Southeast Georgia – it's a lot of farmland. We're probably at least fifty to a hundred miles from another big company tractor dealership. We have a lot of power outages here; we have lots of things that make the system go down. Our service to the customer was beginning to become a problem. When the system goes down, it can take 45 minutes to get it back up before you can get a ticket to the customer. That was very frustrating.
When DIS offered the security of hosting the hardware, we were satisfied that it was being very well protected. We love it."
How has the switch to DIS Cloud Hosting impacted your usage of the system?
Connie: "It took a burden off me personally because I didn't have to try to keep everyone up and running. Going to different departments to have them sign off, is it working, is it doing this and that—that has completely been removed.
For backups, we used to use a tape drive. It was becoming hard to get the tapes to work and they were over $100 a piece. Now I don't have to worry about that.
Also, I know that DIS is a phone call away and can dial into our system—they're like an extension of our business and always have our answers. Their employees are loyal, that I have formed a good relationship with them over the years. DIS has a good team working together to make it work."
How do you feel about your data being in the hands of DIS versus on-premise now?
Connie: "Cloud Hosting was something we had looked at but were hesitant about for security reasons. We thought on-site was more secure. But when we called to ask about it, DIS was able to really explain it to us. Once we realized that hackers could get anything if they want to get it, and we didn't have a professional person constantly monitoring our system for hackers, we knew it would be more secure to use Cloud Hosting."
What was your experience with Support for DIS Cloud Hosting?
Connie: "I can't praise them highly enough. We've established a relationship. I'm almost at retirement and the new person who is going to take my place here in a few years is very comfortable if I'm not here. She knows to call DIS if she has any issues. The Support team is very thorough in explaining things and always offers to help in any way. We just count on DIS. I know that if we can't do it, we can just call DIS and they can take care of it."
Do you have any advice for other dealers who are considering switching to Cloud Hosting?
Connie: "Do it. If they need to talk to anybody, research it. Call DIS and ask questions. That's what I did–I had a lot of questions. We've met in person; they know the changes our company has made over the years. They were able to give me the comfort that we were making the right decision.
I think cloud is certainly something that is going to be the future–you've got to keep up."