Doing more with less might as well be the universal motto for farm equipment dealerships heading into 2023.
Escalating equipment costs and interest rates combined with a scarcity of essential parts and qualified talent rank among the top challenges dealerships anticipate in the coming year according to the 2023 Ag Equipment Industry Trends report.
But challenges breed opportunity. As dealerships continue adjusting to market realities, digital mobility, automation, and versatility can help create more efficiency and profit – with less investment of time and money.
Based on the survey responses from participating ag equipment dealers across North America, we've identified 8 ag equipment industry trends to watch as you plan for 2023 – and the statistics to back them up.
Click to Jump Ahead:

1. Demanding More Supply
Dealers anticipate kinks in the supply chain to continue into 2023. 78% of survey respondents expect that rising product prices will be their primary business challenge in the coming year – tied with hiring and retaining talent atop the list. Parts shortages and rising interest rates tied for second with 63% of dealers anticipating those areas to pose challenges in 2023
The data extend the trends from last year's findings when respondents expected manufacturer backlogs and "tech talent shortages" to be their two biggest challenges in 2022. Last year's ag equipment industry statistics revealed that about one quarter of dealers anticipated tech labor shortages to be one of their biggest challenges 2022.
With the ag service tech of today being much closer to an on-call specialist than a 9-to-5 mechanic, finding, let alone keeping qualified talent continues to be difficult for dealers. Hiring and retaining techs will be a primary challenge for Peru Farm Center in the coming year, according to owner Ashley Akey. "Our biggest struggle is hiring and maintaining talent," she says. "Mainly in the technician field."
Finding and keeping customers are also challenges dealers anticipate in 2023. 22% of dealers expect attracting new customers, and about 13% say customer retention will be challenges in the coming year.
Cybersecurity is another challenge that 25% of dealers expect to face in 2023. Implementing a cloud-based server is helping some dealerships alleviate data safety concerns. "Once we realized that hackers could get anything if they want to get it, and we didn't have a professional person constantly monitoring our system for hackers, we knew it would be more secure to use cloud hosting," said Connie Arnold, Bookkeeper and Treasurer at Appling Motors.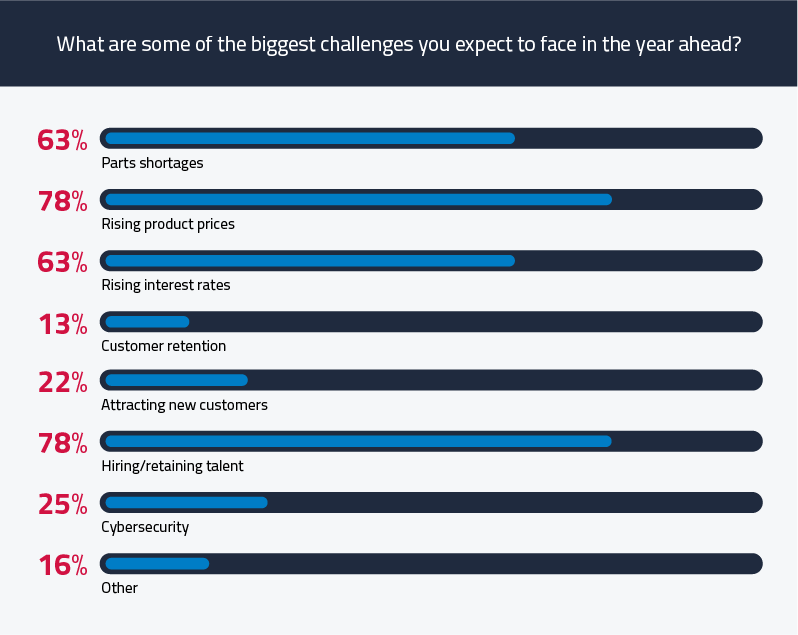 2. Automate to Alleviate
Modern dealership management systems have helped businesses connect the digital dots across departments to improve employees' overall performance and productivity.
And dealers see automation as an avenue to further improve operational efficiency in the year ahead. About 38% of survey respondents identified Technician Scheduling and Parts Ordering as the top two processes they would like to automate in 2023, followed by Analytics Reporting at 34%.
Parts Receiving (31%), Invoicing (31%), Planned Maintenance Scheduling (25%) and Status Updates (25%) were other areas that respondents see the opportunity for automation.

3. Available and Responsive
Solving ag equipment problems on the farm or in the field can increase customer uptime and service tech efficiency. 88% of ag equipment dealers say they offer mobile service according to 2023 survey results.
Planning and monitoring tools, including digital dashboards to track and update jobs, can enhance the value of mobile service for customers and dealerships.
In an increasingly competitive market, speed and efficiency can differentiate a dealership with customers. Townline Equipment integrated management software to streamline service department tasks at two locations and better track
Mobile management and prioritization of service jobs allowed techs to complete them faster, without sacrificing quality. "When my service team bought in, which they all did, it added dollars to our bottom line; we became more efficient in our shop," said Matthew Marrazzo, Owner of Townline Equipment.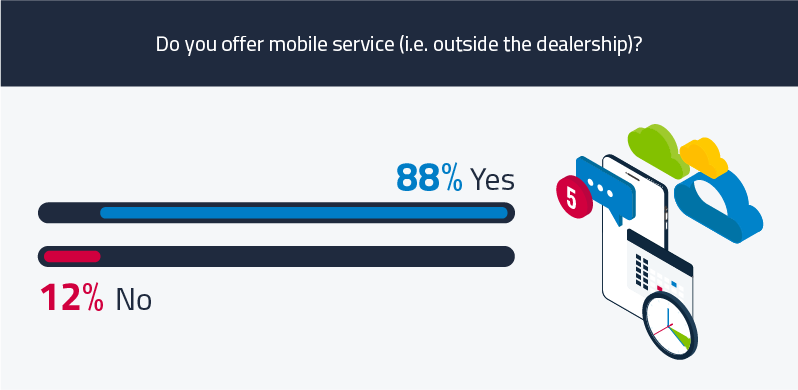 4. On the Go, in the Know
With some service departments are working at less than full capacity, the importance of frequent, fluid internal and external communication is critical.
35% of dealers say they currently utilize text messaging to communicate service updates, marketing promotions or other dealership information.
32% don't currently utilize texting, while the same percentage said they plan to start using text messaging at their dealership in 2023.
5. Cost-Saving Comfort in the Cloud
Protection and preservation of data is more critical than ever to a dealership's growth. Cloud-based servers can provide a secure, cost-effective solution and 73% said they already have or plan to switch to one in 2023.
This includes about two-thirds of dealers currently utilizing a cloud-based server. At a time when teams are stretched thin and margins are tight, the last thing a dealership can afford is an unreliable, outdated server.
When Appling Motors replaced its IBM AS/400 on-site server with a cloud-hosted solution, the move reduced stress and cost. "It took a burden off me personally because I didn't have to try to keep everyone up and running," said Arnold. "For backups, we used to use a tape drive. It was becoming hard to get the tapes to work and they were over $100 a piece. Now I don't have to worry about that."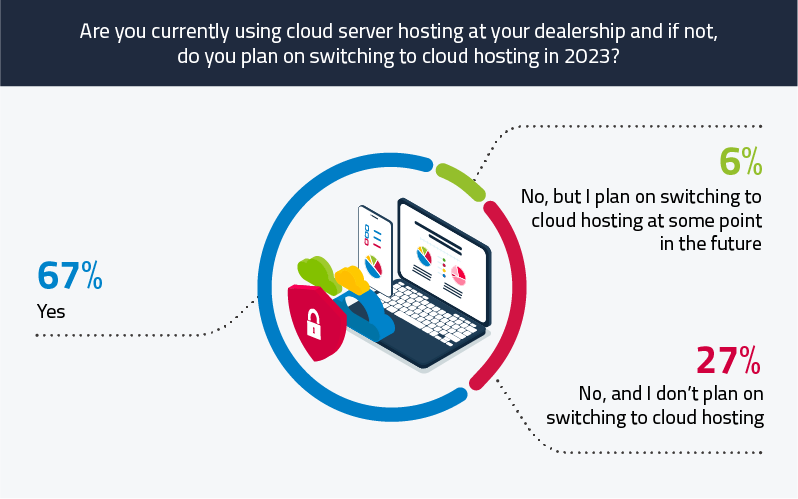 6. Visibility Through Versatility
How and where dealerships engage customers is changing, with digital methods providing targeted, economic opportunities to diversify business. Ag equipment industry statistics from last year's trends report, revealed that 71% of dealers intended to build their dealership's online presence in 2022.
In the coming year, dealers plan to continue building out their eCommerce architecture.
"As dealers, we'll have to get more creative in solving customer needs," says Pat McCrabb, General Manager, JJ Nichting Co. "I feel a stronger digital presence will be required as our customers change how they do business."
54% of 2023 survey respondents said they currently offer an online product catalog, although 9% of them indicated theirs isn't up to date. Another 46% said they don't yet have an online product catalog.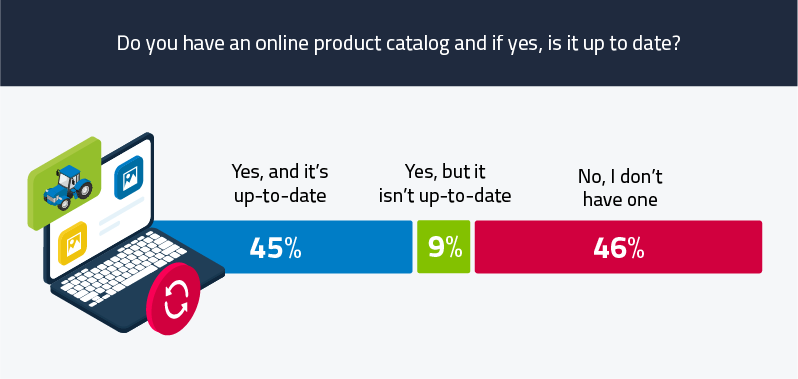 7. Rental Opportunity
Potential, and perhaps permanent, changes to the traditional sales model could be on the horizon for dealerships to compensate for rising equipment costs and create alternative or supplemental sources of revenue.
Equipment rental is an option that dealers are embracing, with 53% of survey respondents currently or planning to enter the market in 2023. This compares to 54% of 2022 respondents who said they offered rental equipment at their dealership.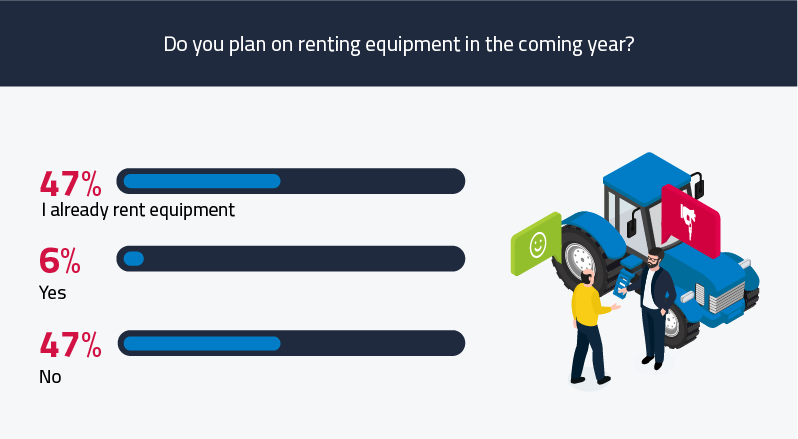 8. Flexible Financing
Dealers are also looking to be more flexible with financing in the coming year. Approximately 53% of survey respondents said they plan to offer alternate financing options in 2023.
The added versatility can help fill some economic voids for dealerships, which underscores the importance of accurate tracking of transactions.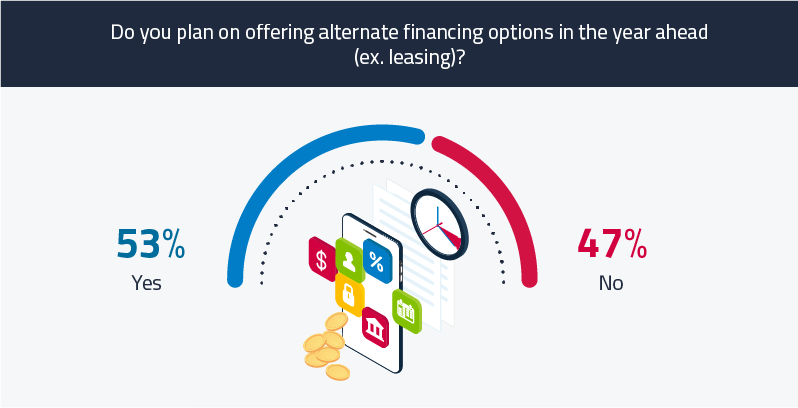 Looking for more ag equipment industry trends and statistics in 2023?
Check out the DIS 2023 Ag Equipment Industry Trends Report for an in-depth analysis and outlook on the tech tools and trends that will influence dealer decision-making. We've compiled insights from surveys, ag industry experts, and ag dealers across North America.