Dealers are experiencing a technician shortage.
That isn't news – labor shortages are one of the biggest construction industry trends this year. But it's an issue that dealers across virtually all industries have been facing for the last few years. There are a number of reasons why the shortage is happening, which have all been exacerbated by the pandemic:
The demand for higher compensation and the retirement of flat-rate compensation
Poor working conditions, spurring technicians to seek out work somewhere else
A lack of professional development for technicians
Burnout from the increased strain on service department to compensate for slower wholegoods sales
The impact? Many dealership service teams are stretched thin.
According to Sara Hey, VP of Business Development at Bob Clements International: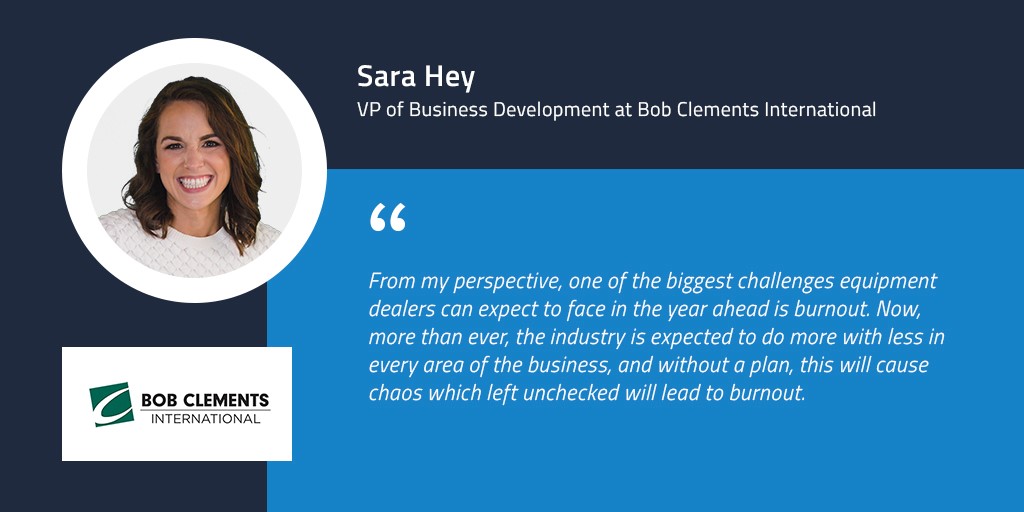 "From my perspective, one of the biggest challenges equipment dealers can expect to face in the year ahead is burnout. Now, more than ever, the industry is expected to do more with less in every area of the business, and without a plan, this will cause chaos which left unchecked will lead to burnout.
Anytime there is chaos in the dealership, it costs you both money and your sanity, and the way you combat chaos is with good processes."
The solution isn't clear-cut—and addressing all of the causes of a technician shortage is too big an undertaking for one blog post. That's why, in this article, we're going to home in on some ways that you can mitigate one cause: burnout.
Here are some ways you can use technology to cope with the technician shortage.
1. Understand how to measure efficiency
Before diving into things that you can streamline and automate, it's important to understand how to properly track service productivity and efficiency.
You can calculate productivity by dividing billed hours by worked hours. And you can calculate efficiency by adding billed hours plus gains/losses and dividing that number by revenue hours.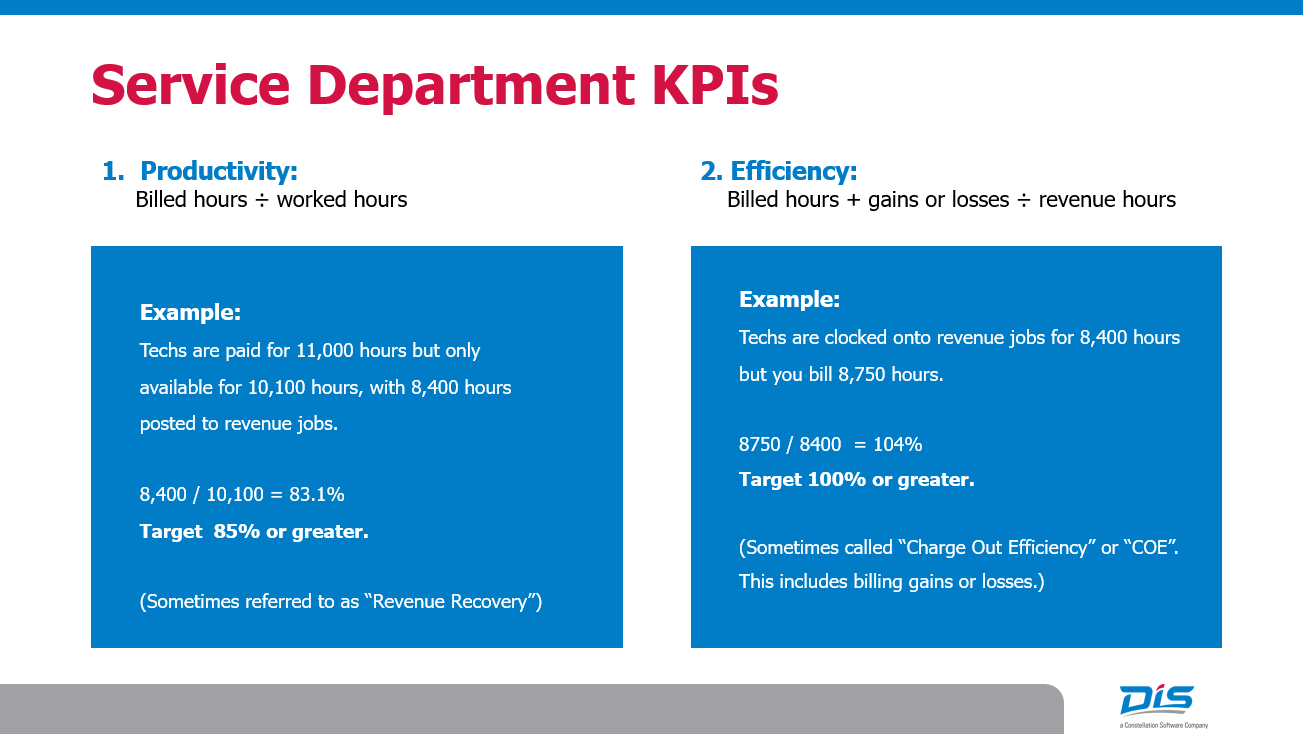 When you can track your service team's productivity and efficiency, it's easier to identify when those metrics are dipping. You can also set goals to improve those metrics and weigh changes you may in your processes to see if it's working. An accurate service time-tracking system is crucial here.
2. Use priority level tags on work order
When you're staring at a mountain of "to-do's", it can feel insurmountable. That's why you want to make it as easy as possible for technicians to prioritize their work. Create standardized priority level tags for all work orders, so your techs can identify the most important jobs to tackle first.
3. Cut down on data entry
This doesn't mean let data slip through the cracks. But look for opportunities to integrate programs you use, so data doesn't have to be rekeyed. Rekeying data can take up a ton of time that could otherwise spend tackling jobs. An integrated dealer management system can be a game-changer here.
4. Streamline technician scheduling
You can also help manage the workload of your technicians by using a service scheduler to assign jobs based on skillset. This is particularly useful if you use a job queue. By ensuring that you've got the right person working on a job, you can mitigate confusion and help keep efficiency up.
5. Digitize your inventory management
Many dealers are still using a clipboard to manage their inventory count. That can make it really hard to accurately track parts availability and can result in misordering and undetected aging parts sitting on the shelf. Not to mention, tracking down the right parts can slow down a job. But by digitizing your inventory management, you can make it a lot easier for your service team to check parts availability and place special parts orders.
6. Mobilize your technicians
Think about how much time your technicians spend running across your dealership, re-keying work order information, and punching in and out of jobs. But you can save them a lot of time and increase the accuracy of documenting service procedures by giving techs the ability to do all of those things on a mobile device, right in the shop.
The team at Townline Equipment implemented Service Logistics (a mobile service management tool that runs on a tablet) and saw productivity and efficiency in their shop go up. You can read more about that here.
7. Make it easier to get customer signatures
Waiting on customer signatures can really slow things down. Before you can process a work order, you need a customer to sign off on it. For that to happen, you need your customer to physically be at your dealership. But you can speed up the process of getting signatures by equipping your service team with a mobile-compatible digital signature tool. That way, your team can collect signatures in the field and automatically log the signature in your dealer management system (you can learn more about how DIS Service Logistics can help you do that here).
8. Automate customer communications
Following up with customers and replying to messages can eat up a lot of your service team's time. That's why automating certain communications can make a big impact here.
Now, some dealers are apprehensive about automating communications because they don't want their customer service to lose that personal touch. But look at it this way: by automating things like alerts for work order status changes or pick up/delivery dates, you can ensure that no customer communications fall through the cracks.
9. Segment work orders
This involves training your technicians on proper work order documentation. The more detailed your work order documentation, the better you can identify inefficiencies in your shop. Train your technicians to log details about each step they took in the repair process and how long it took them to complete each step.
Digitally logging work orders will make it easier to organize information and add details as they come up in the repair process.
10. Enable your customers to serve themselves
Self-service? Why not! Often, customers appreciate the opportunity to manage sales and service at their convenience. We're seeing more dealerships offering customer portals that allow them to request service, check work order statuses, submit help requests, and make payments whenever they want. This not only provides customers with more transparency (helping to build trust) but also lightens your service team's load.