Dealership service departments across all industries are moving away from traditional methods of record-keeping, such as pen, paper, and even whiteboards, to computers and digital records. There are more ways than ever for dealerships to use technology to grow their business and remove older, less accurate, and slower processes. But which technologies should dealers bring in to help facilitate and optimize their dealership's current processes?
As your dealership's largest revenue generator, the service department is where you want to start leveraging technology. Implementing the right digital solutions in your service department will help maximize revenue, reduce the amount of time it takes from the beginning of a work order until it's invoiced, and ultimately deliver a better customer experience.
Based on expert insights from Jon Rossi, Innovation Manager at DIS, and Udi Naamani, Product Manager at DIS, this blog explores the different kinds of tools and solutions that are currently available to dealers today to help digitally transform their service departments.
What is Digital Transformation?
According to Salesforce, digital transformation is:
"The process of using digital technologies to create new – or modify existing – business processes, culture, and customer experiences to meet changing business and marketing requirements."

Essentially, digital transformation is about getting away from older technologies and looking at how we've changed as consumers. For example, look at how smartphones and apps have changed us as consumers and the way we manage our day-to-day lives.
Digital transformation is not new. The new part is digitally transforming equipment dealership service departments. Digital transformation is about adopting digital practices to replace older methods, such as whiteboards, notebooks, and handwriting, to keep track of service processes.
How can these changes be leveraged to set dealerships up for success?
Read Next: How Farm Equipment Dealers Use Software to Manage Their Business
There are 8 different things that are worth considering as you start thinking about which digital changes to introduce in your dealership's service department.
1.      Infrastructure
The first thing to consider is whether your dealership has the infrastructure, specifically the internet bandwidth, currently in place to help facilitate digital transformations. Every device brought into the dealership uses the internet. But if the internet is slow, then it can't transfer information quickly enough between the service technician and customer. Getting the infrastructure in place increases your ability to deliver information to your customer more quickly and improve their experience.
2.      Mobile
Customers are already accustomed to using their mobile devices for a variety of activities. Recognizing that, it's important for dealerships to start using tools and processes that are mobile-friendly because that's what customers might be looking for. As you start thinking about digital transformations, mobile apps are examples of tools that you can use to quickly connect both with customers and service technicians.
Another aspect to consider is optimizing your website for mobile devices. This ensures that your customers can access your website on any device. Additionally, consider moving away from faxing to texting. To be competitive in today's world, more dealerships are moving towards mobile solutions because it's faster, more accurate and, even in rural areas, there is extensive cellular coverage.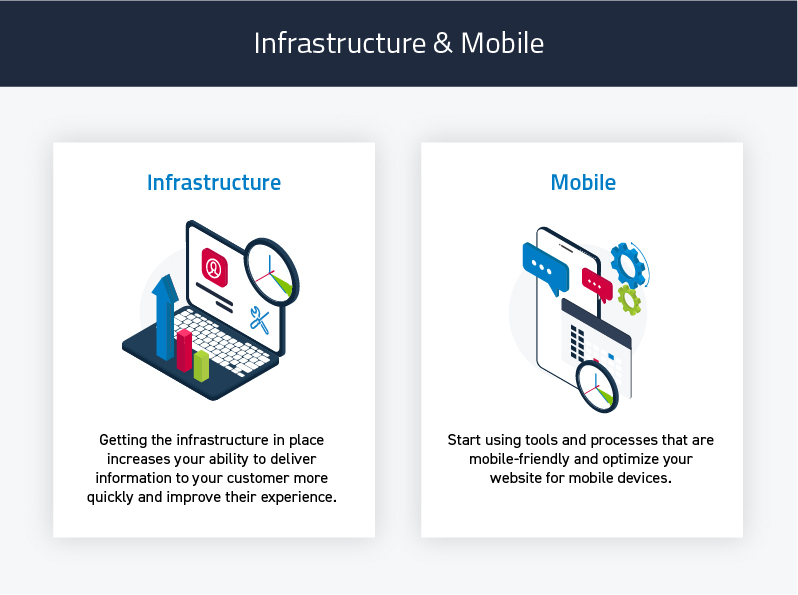 3.      Communication
One of the biggest customer concerns is the lack of communication when their equipment is being serviced. How can a dealership be more proactive in its communication with customers?
The first thing that the service department can do is look at the way they're scheduling their walkthroughs at the shop.
During these walkthroughs, check in with technicians at each bay to get the status of a service repair and if an update to the customer is needed. Perhaps you'll find that the customer was already updated first thing in the morning so six hours later, there's no need to update them again, allowing you to move on to the next phase.
As you talk to your field service technicians, ask them how they're doing, the ETA of the work order, and so on. This gives you proactive communication from the service technicians in the shop and in the field that you can then translate to the customer. Mobile is a great way to send that communication out to your customers as well.
4.      Digital Workflow
Paper is still the main tool used at the dealership but think about the technician who's at the furthest bay. That technician must stop, clean up, and then walk all the way to the service office. Don't forget the return trip too. What your dealership should look to adopt is a digital workflow solution for service departments.
Give your technicians the tools that will let them send information to the service office more efficiently, such as sending information off in a mobile format to the customer. This helps increase their work efficiency and reduces the manual processes they might be currently facing. By improving the digital workflow, you now have the resources to do more work in less time or when you don't have more work, you can save and do more with less.
Read Next: Dealer Technology Solutions That Are Shaping the Industry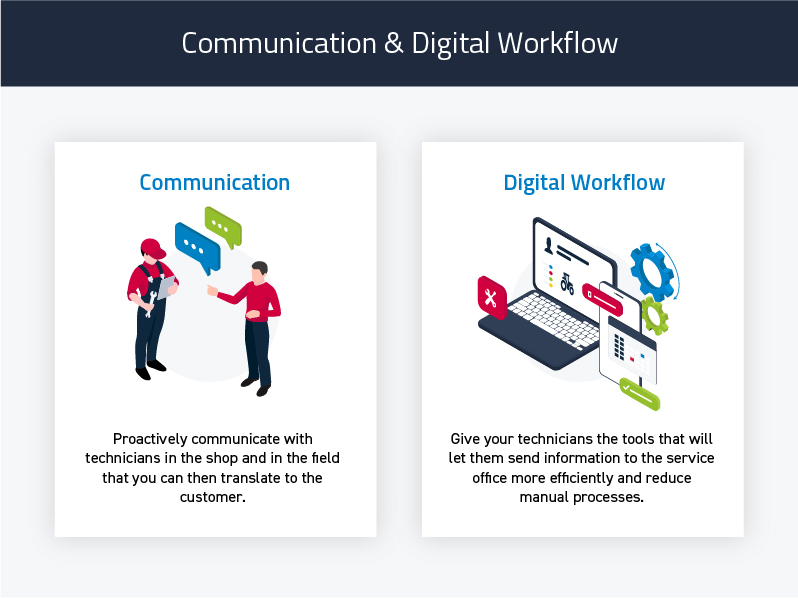 5.      Digital Timesheet
Digital timesheets are another important area where you can bring digital improvements into your service department. They reduce errors and discrepancies, especially as it relates to warranty work orders. For example, what typically happens when a technician is out in the field is that they'll call the service manager asking them to punch in the technician's time. But if it's a warranty job, this is a risky thing to do, especially if your business is audited. Manufacturers also don't like this because it could allow for numbers to be fudged. It's not about doubting anyone's honesty, but it's just not the right process.
Digital timesheets allow technicians to input the exact time on the clock. If they can clock it in on a mobile device, then that's even better. The technician doesn't have to run back to the dealership or have someone else run to the computer to clock in their job. Your dealership should implement a way that a technician can clock into a job that's not dependent on their or someone else's memory alone.
6.      Monitoring
When service managers monitor their techs and workloads, they use large whiteboards, excel sheets, and some digital dashboards. But even those spreadsheets and dashboards won't show you when a technician goes over the allotted job time that was scheduled. Having a digital solution that is optimized for mobile devices, such as an app or website, allows you to take your phone to monitor and understand what technicians are doing. If you need to assign another technician to help, you can monitor that more quickly. It's about having a way or a tool to monitor progress instantly.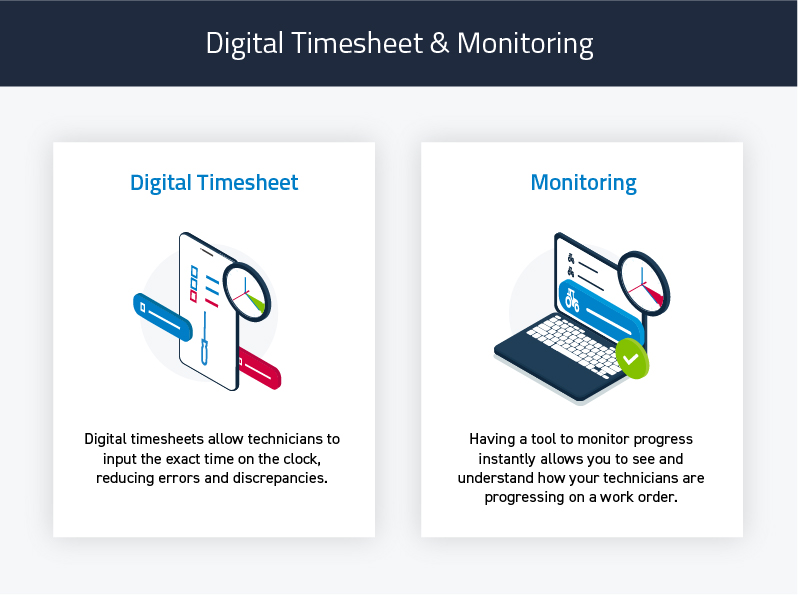 7.      Planning
In terms of managing and monitoring the time spent on a work order, look for a tool that allows your service department to have a dynamic planning schedule. A digital planning solution should give you visibility into one or more weeks at a time to manage and schedule technicians and their work orders.
Service managers can then use the tool to identify openings in the schedule to decide if there is room to take an incoming job or whether to dispatch a technician out to a field job. Having a multi-week planning tool also gives visibility into the current week and several weeks after. This allows service managers to account for and plan for proper coverage if a technician is away.
8.      Direct Messaging
Direct messaging is probably the most important tool your dealership needs to consider when looking to undertake a digital transformation of its service department. Imagine a world where service employees aren't taking or making phone calls all day long, dealing with the salesman who wants to know what's going on with the service work order, or dealing with someone who's dropping off a piece of equipment and waiting for a technician to discuss some information with them. Having a tool that can directly update customers about the status of their equipment will save your technicians time and allow your service department to complete more work.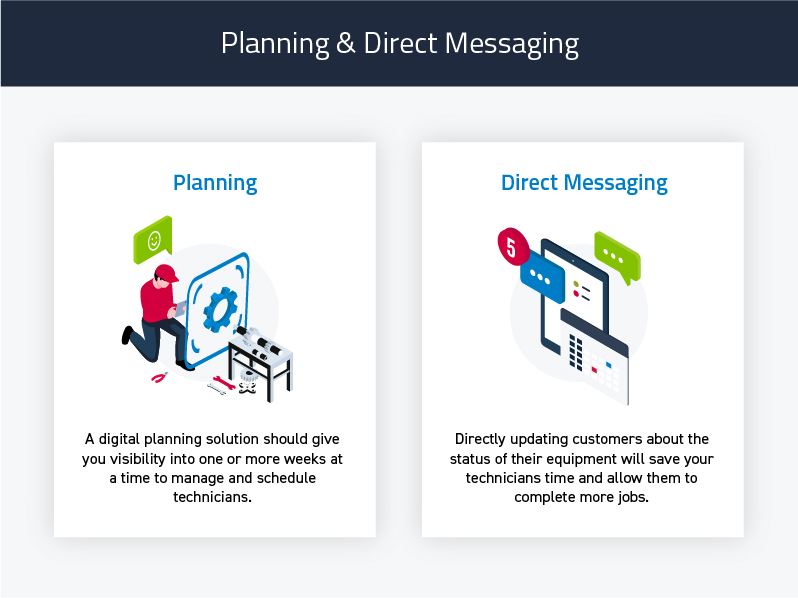 Where do I start my dealership's digital transformation?
Digital solutions and tools for dealerships are becoming more and more common in the industry. It can be overwhelming to read through a list like this and try to figure out where in your service department you should make the first change. The most important thing is to have a single starting point – usually beginning with a tool or software.
From there, audit and understand how to leverage the digital solutions and tools offered to you and replace older, manual processes. You can then develop a plan based on the priorities and needs of your dealership to adopt other technologies as needed. One thing's for sure – take the time to seriously evaluate the tools you're considering. Ensure that they're resilient and can grow with your business.
Want to learn more about which tools will help transform your dealership's service department?
Click to read our blog post: Digital Tools to Help Transform Each Part of Your Dealership's Service Department