At this year's Kubota Connect event, a big focus is being put on their K-Commerce DMS integration. They're not alone in this—dealership e-commerce has been a hot topic in the industry for the past few years. The pandemic only added fuel to that fire.
According to Statista, e-retail sales accounted for 18% of all retail sales worldwide in 2020. This number is expected to reach 21.8% in 2024. The dealership industry can expect to see an increase in ecommerce sales as well.
But while many retail industries have fully embraced e-commerce, the dealership industry is lagging behind. That means that dealers who do make the move to increase their online buying presence will be at a competitive advantage.
Especially with the next generation of customers taking over the industry. This new generation of customers expects to be able to find the information they need about your business online, including product information, educational content, and online communication avenues like chat and social media.
While we don't expect e-commerce to replace in-store sales, e-commerce is an opportunity to create new avenues for revenue and for connecting with your customers.
Here are five essential e-commerce best practices that today's customers expect from businesses.
1. Create a convenient online dealership shopping experience
In the full throws of the first wave of the pandemic, when many communities instated social distancing restrictions, businesses that provided online shopping options were at an advantage. But as the data we already cited suggests, the market was going digital anyway.
Manufacturers and dealers are working together more to provide customers with a better, more convenient experience. This is particularly important nowadays, as the entire industry faces supply chain disruptions that slow service down.
For example, Kubota's K-Com integration enables dealers to offer an online catalog and shopping cart that links to their dealer management system. Customers can search for parts, place orders, and choose whether they would like to pick up their part or have it shipped to them. By doing this, dealers can not only provide up-to-date pricing and parts availability information for customers, but also automatically log customer purchase and invoice histories.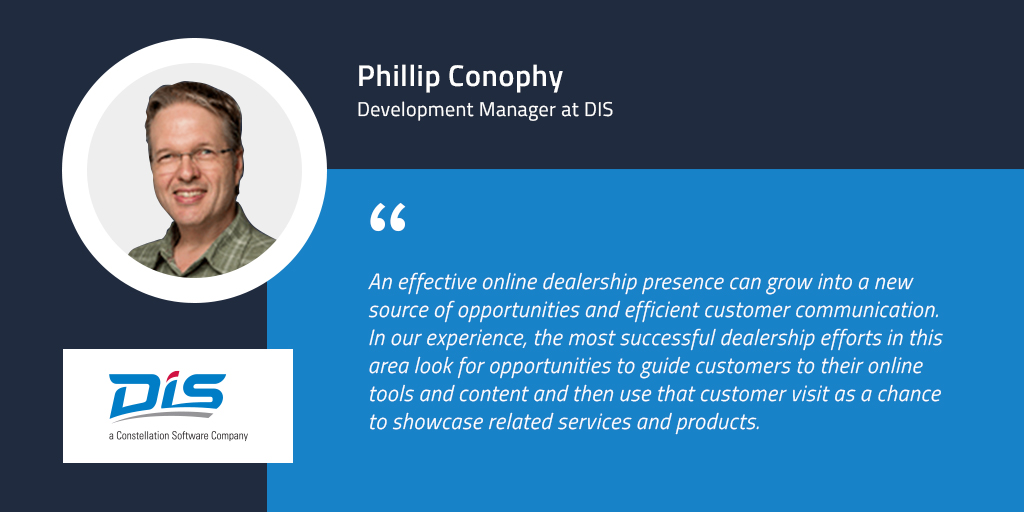 "An effective online dealership presence can grow into a new source of opportunities and efficient customer communication. In our experience, the most successful dealership efforts in this area look for opportunities to guide customers to their online tools and content and then use that customer visit as a chance to showcase related services and products."
Phillip Conophy, Development Manager at DIS
2. Showcase your expertise on your website and social media pages
Customers want to feel confident that they're doing business with the best. Credibility extends beyond just getting reviews and referrals. If you want to really set yourself apart, you can make your website a resource for customers to learn more about your equipment and how to use it. This will help you build up your brand as thought leaders in the market.
Building thought leadership might sound intimidating, but you can start small. For example, you can start by publishing short videos and blog posts sharing tips for equipment maintenance, knowing what to look for when shopping for equipment, etc.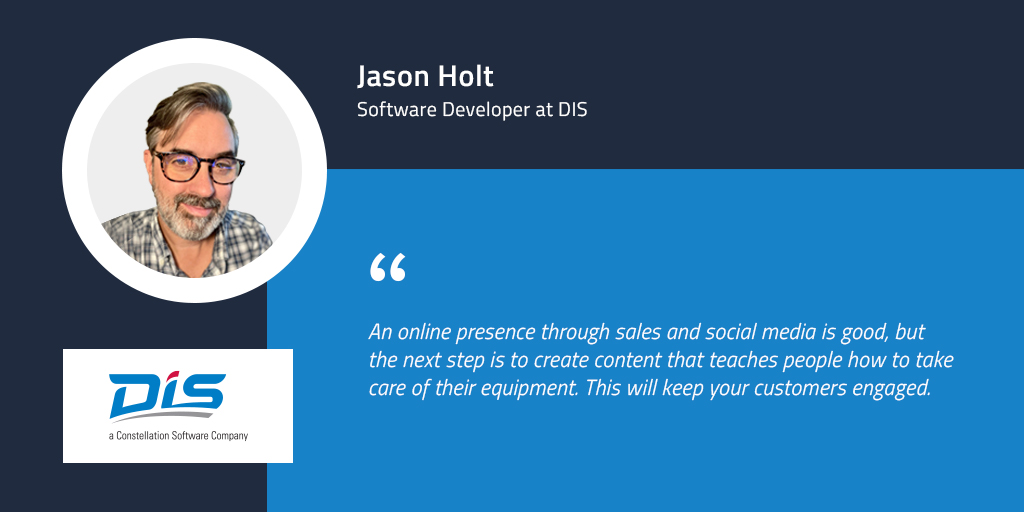 "An online presence through sales and social media is good, but the next step is to create content that teaches people how to take care of their equipment. This will keep your customers engaged."
Jason Holt, Software Developer at DIS
One dealership that is doing a great job at this is Lansdowne-Moody Company. They publish educational blog posts to help customers pick the right equipment for their needs, maintain their equipment, and learn about new releases from Kubota.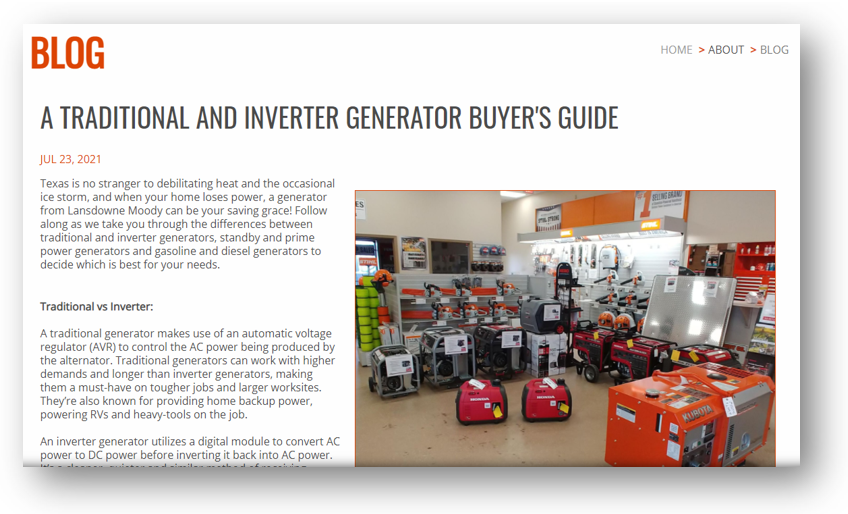 Another dealership that is doing a great job of sharing educational content is Binkley and Hurst. On some of their blog posts, they include a lead capture form at the end, encouraging readers to reach out. That means that not only does their blog post serve as a piece of content to establish credibility, but also an avenue for collecting sales leads.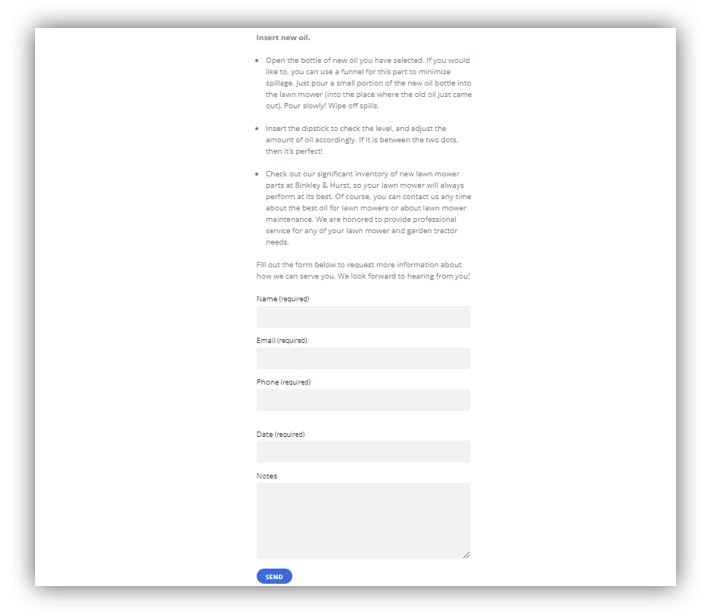 3. Leverage online marketplaces
Online marketplaces like Facebook Marketplace and Facebook Shops offer an opportunity to showcase your inventory in front of high purchase intent customers in your geographical region. People typically search online marketplaces with a specific need in mind, meaning they're in a mindset to buy.
Online marketplaces can be the gateway for new customers to find your business. Customers searching for a specific type of equipment on Google may not come across your website. But by posting your stock on online marketplaces, you can increase the potential for customers to stumble across your dealership's information.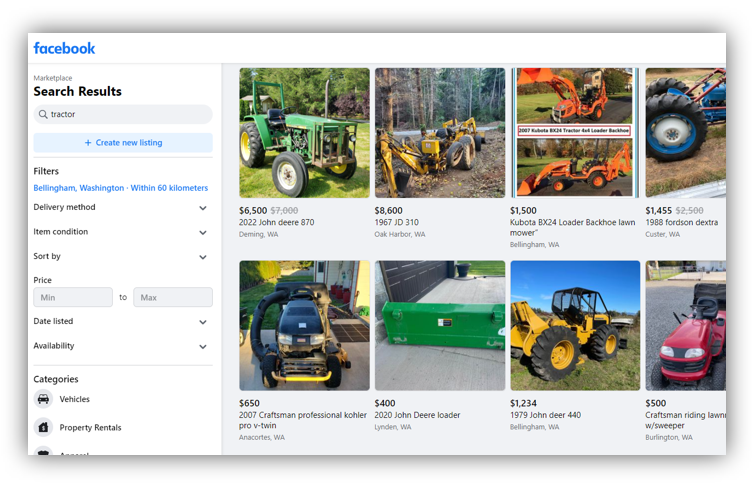 Another benefit of online marketplaces is the chat function. Customers can fire off a quick message to you, asking for more information, and someone on your team can chat with them in real-time.
4. Regularly ask for online reviews
Getting online dealership reviews can be a laborious process, but the pay-off is worth it. There are steps you can take to make getting reviews easier, without taking up a ton of your team's time.
In case you're thinking, "I've already got some reviews. Why do I need more?" We'd like to drive home this point: quantity of reviews matter. The more positive reviews you have, the more social proof you will have for your business. Like publishing educational content, reviews help to reinforce your business's credibility.
Most dealers have around 10-20 reviews on their Google My Business and Facebook Business pages. Meanwhile, big-box stores will have hundreds. While you likely won't be able to keep up with the number of reviews big-box stores get, you can still put processes in place to get regular new reviews for your dealership.
One way to make it more manageable to ask for reviews is to focus on the right platforms. Rather than trying to get reviews on all review sites like Yelp, Yellowpages, and Fourquare, focus on the review sites that will get you the best reach. In 2020, Google got 67% of reviews, while Facebook only got 7% (source). That's why your best bet is to focus on getting reviews for your Google My Business page, followed by your Facebook business page if you have the capacity to manage both.
Here are some tactics you can use to get more reviews:
Sending an email or text message to a customer after a sale or service, asking them to leave a review. The best time strike is when the iron is still hot. If possible, provide a direct link to your Google My Business or Facebook page to make the process seamless.
Put review links in your email signatures. This likely won't get you a ton of reviews, but every review counts.
Offers customers incentives to leave reviews. That doesn't mean bribing customers for 5-star reviews. But it could mean asking your customers to send you a picture of their review in exchange for some swag or offering a discount on their next service appointment.

5. Provide online service and self-service opportunities
Waiting for customers to come into your dealership to approve work orders can slow things down. But by giving customers the ability to do those things from home, you can cut down on the wait time while also providing a more convenient customer experience.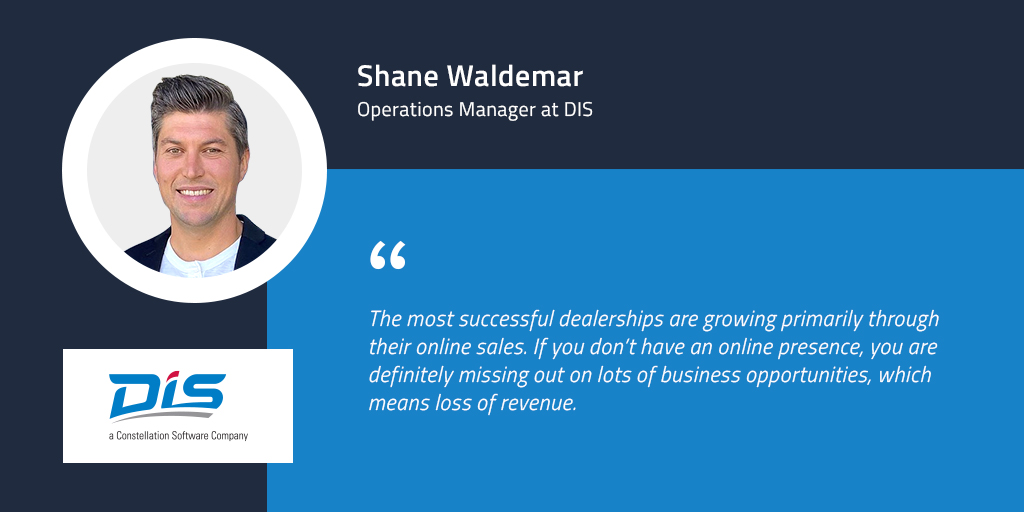 "The most successful dealerships are growing primarily through their online sales. If you don't have an online presence, you are definitely missing out on lots of business opportunities, which means loss of revenue."
Shane Waldemar, General Manager at DIS
Businesses in other industries like Skip the Dishes and Uber have already set a precedence for on-demand service. Now, we're not suggesting that app-mediated service should replace the in-person service offered at your dealership. After all, that personal touch is what sets smaller dealerships apart from the big box stores. But enhancing your in-person service with the convenience of online and self-service opportunities can help you provide a smoother customer experience.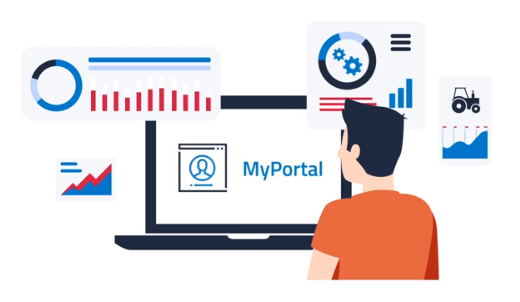 Tools like DIS MyPortal give customers the flexibility to request service from your dealership from the comfort of their own homes.
Convenience is key
E-commerce isn't a new trend – it's an expectation for how businesses operate these days. Your online presence is a direct extension of your brick-and-mortar storefront.
While it may be an adjustment to how your dealership operates, the pay-off is worth it: you can create a continuous customer experience, from discovery to sale to service, and repeat. What's more, by integrating with manufacturers, you can meet customer's needs faster and manage your own inventory more effectively.
DIS recently launched a Kubota Interface Bundle to help dealers optimize their parts ordering, warranties, e-commerce presence, and more. You can learn more about the Kubota Interface Bundle here.