According to a Gartner report, 85% of businesses will migrate from on-premise to cloud hosting by 2025. But many dealers are reluctant to make the switch.
For some, it's because they worry moving to cloud computing will be expensive. Others are simply used to their on-premise server and aren't sure they can trust their system being hosted by a third party.
But there are some major benefits to adopting cloud computing at your dealership—one of the biggest benefits being protection against dangerous ransomware. There's a reason 60% of DIS customers are already using Cloud.
In this article, we'll break down what exactly cloud computing is. Then, we'll share the biggest dealership cloud computing benefits to ease your concerns about making the switch.
First Things First: What is Cloud Computing?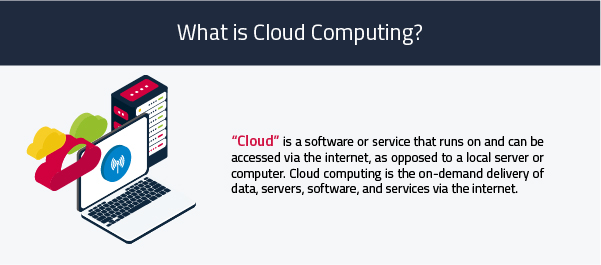 "Cloud" is a software or service that runs on and can be accessed via the internet, as opposed to a local server or computer. Cloud computing is the on-demand delivery of data, servers, software, and services via the internet.
With an on-premise server, you use physical hard drives to store data at your dealership. Your data can only be accessed via that on-premise system. But with cloud computing, you can securely access your data from anywhere as long as you have an internet connection.
What are the Types of Cloud Computing?
Cloud services fall under four main categories:
Public clouds
Private clouds
Hybrid clouds
Multiclouds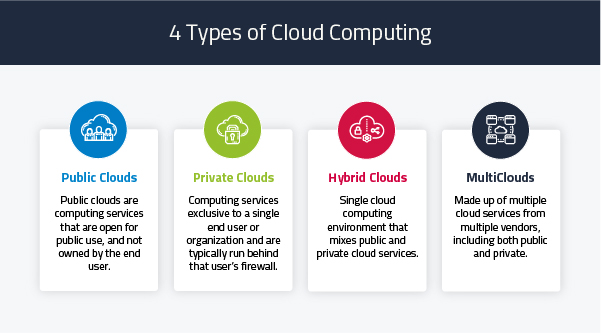 Public Clouds
Public clouds are computing services that are open for public use, and not owned by the end-user. They're owned by third-party providers like Amazon Web Services (AWS) or Microsoft Azure.
Private Clouds
Private clouds are services exclusive to a single end-user or organization and are typically run behind that user's firewall. These days, you mostly see organizations hosting private clouds on vendor-owned data centers hosted off-premises. The system is managed by cloud hosting providers, like Azure Stack, Oracle Cloud Platform, or Cisco Cloud Center.
Hybrid Clouds
Hybrids clouds are a single cloud computing environment that mixes public and private cloud services. Typically, this involves connecting an on-premise data center to a public cloud service. The connection is managed by an orchestration platform.
Multiclouds
Multiclouds are made up of multiple cloud services from multiple vendors, including both public and private. A multicloud can become a hybrid cloud when multiple clouds are connected by some type of orchestration platform.
Now that we've covered what the different types of cloud computing are, let's dive into why many dealers are making the switch from on-premise servers to cloud.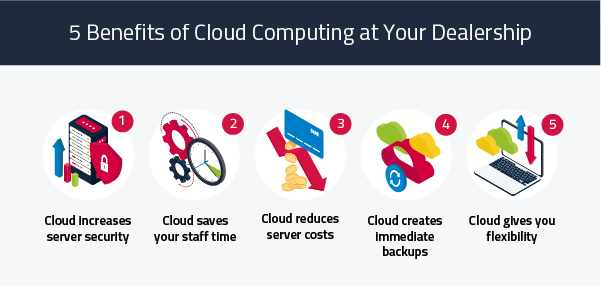 1. Cloud Increases Server Security
In Q3 of 2021 alone, ransomware attacks rose by over 140%. Small to medium-sized businesses, especially those that host their servers on-premise face the greatest risk of cybersecurity threats.
Moving to a third-party cloud service provider gives you the benefit of having your system protected by their security measures. Cloud providers are responsible for monitoring system security, performing regular backups, and routinely updating the system to protect it against new threats.
In the case where a cyberattack does happen, hosting backups of your data in the cloud will make it much easier and quicker to restore your data and get your dealership system back up and running than if you had to restore the data yourself or worse, start over.
Another reason cloud environments are safer is that the server is segmented from the user's workstation. Typically, hackers enter a network using phishing or emails threats via the user's workstation, rather than at the server level. Because cloud servers are segmented from the user's workstation, it makes it harder for hackers to enter via the corporate network where the data is held.
Read Next: How Appling Motors Have Future-Proofed Their Data with Cloud Hosting
2. Cloud Saves Your Staff Time
Maintaining your own on-premise server takes time. You need to handle the maintenance, backups, and updates yourself. Not to mention, if your system goes down, you're the one that has to figure out how to fix it.
That means staffing someone to maintain the server, hiring a third-party person to repair it, or pulling one of your more tech-savvy team members off their regular work to fix the problem.
By entrusting a cloud computing provider, you get the benefit of having their team on-call to address any system interruptions. They will also be responsible for keeping your system up to date.
Read Next: Five Keys to Understanding Your Dealership Network
3. Cloud Reduces Server Costs
Servers aren't cheap. You can end up sinking a lot of money into maintaining and updating your server. First, there's the cost of the hardware. You should be replacing your server hardware every 3-5 years.
Then, there's the cost of software updates. You need to make sure your security software patches are up to date, your data is backed up, and your disk space isn't full. That all takes time and time is money.
If you've got an IBM Maintenance Contract, you will know that that's hard to get on and expensive to keep.  If you don't have an IBM Maintenance Contract or adequate security measures in place, your server is a sitting duck for cybersecurity threats.
4. Cloud Creates Immediate Backups
When you're responsible for backing up your own system, it can be easy for backups to fall to the wayside. After all, you've got a lot going on every day at your dealership, and backing up data is tedious. But if you don't regularly back up your data, you can pay the price later if your system is broken or falls victim to a cyberattack.
When your data is hosted in the cloud, your data is backed up in real-time. That means your system can get back up and running much faster with the most up-to-date information than if you had to use an outdated backup.
5. Cloud Gives You Flexibility
One of the biggest dealership cloud computing benefits is flexibility. When your system is hosted in the cloud, you can access your system from anywhere with an internet connection. That means you can access customer records in the field, manage ongoing service, order parts, and more—without needing to be at your workstation.
There are ways to remote-desktop a mobile device into your server (maybe you're already doing this)—but that approach isn't secure. It's much easier for hackers to enter your network via remote desktop connections.
Manage Your Dealership, Not Your Server
Are you tired of maintaining your dealership's server? With DIS Cloud Hosting and Backup, DIS manages, maintains, and operates your server—so you can focus on running your business.