Chances are your dealership has become more discerning with how, where and when to invest in advanced technology solutions designed to increase business efficiency.
As companies are asked to do more with less, having a versatile, scalable business management system that meets the specific needs of your dealership is critical. Can you afford to expect obsolete software to efficiently support the evolving needs of your business and those of your customers?
Let's back up for a moment. Before we look into the future, we should evaluate the present. If your organization currently relies on a standard Enterprise Resource Planning (ERP) solution, you may be investigating an upgrade to a Dealership Management System (DMS).
But first, you need to know what you don't know. When was the last time you took a hard look at the performance of your current business software system? Maybe it's been a while, and the ERP you added years ago has reached the point of diminishing returns at the same time your dealership is poised to expand.
What is the difference between an ERP and a DMS?
Dealership management software is the backbone for nearly every agricultural, lift truck, construction, and truck refrigeration dealership in today's world. Systems like this constantly evolve to make dealerships more productive and profitable.
ERP vs. DMS: while both systems provide management of core business functions, they can also differ in scope and specificity. It's important to know how solutions can be customized to meet your operational goals not only today, but well into the future.
Since its inception more than 35 years ago, industry-specific DMS software has evolved from a foundational tool to help dealerships manage their day-to-day business activities, into a versatile, comprehensive platform that keeps companies relevant.
But most commercial systems still tend to be generic at their core, so it's important to differentiate between a "one-size-fits-all" and a "all-in-one" solution. You may be thrilled with the accuracy and reliability your current ERP provides for accounting. But what about IT support, cloud hosting or employee training?
While these are increasingly important elements of your business infrastructure, the default management choice for many dealerships still tends to be a basic ERP. But these systems don't often have the capabilities to create more specific efficiency gains in essential areas of your dealership. (We'll explain the importance of specialization in a bit).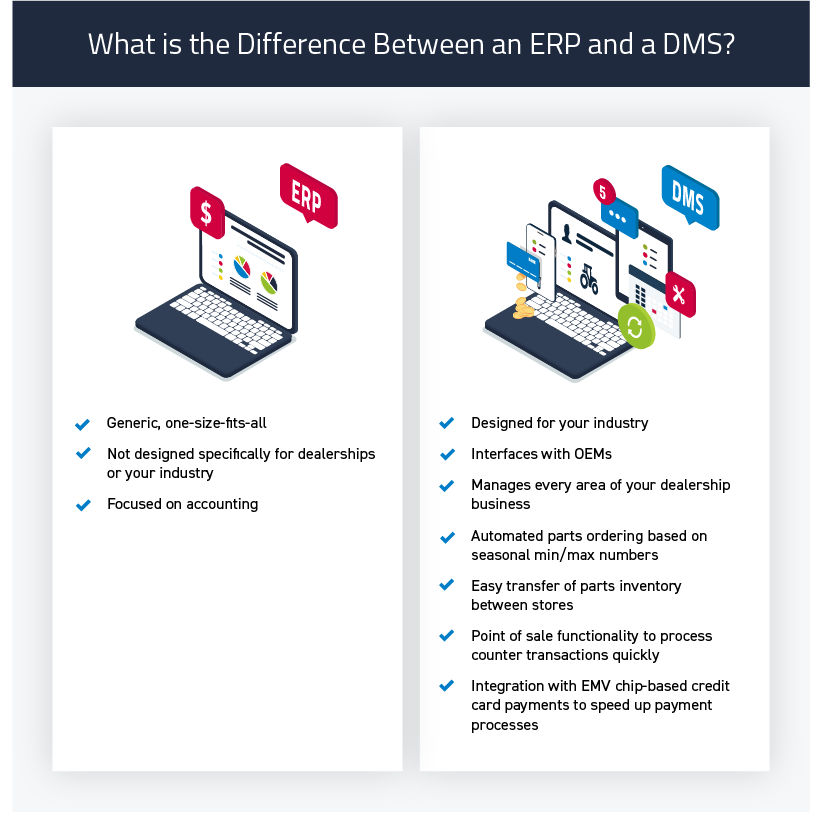 Parts and inventory management capabilities within your DMS:
First, let's think about your current business management software in the context of reliable parts and inventory management – a must for any dealership. In the U.S., 69% of people have "reverse showroomed" or researched online and then bought in-store, according to a recent article in Business Insider.
For dealers to compete today, having equipment and parts on-hand is becoming more and more vital. But more inventory can create more opportunity for mismanagement in the parts department whether it's bought in-store or online, especially when it involves multiple suppliers. Sound familiar?
"We implemented DIS in 2014, because the system that we had prior had reached its limit, and it was getting stagnant," says Matt Travis, parts manager with Alderman's Inc., in Lennon, Mich. "There weren't very many updates coming through, and it wasn't progressing or going forward; it was just stale. We needed something internet-based that we could use on handheld devices. DIS has come along with that for us."
One of the most essential parts management capabilities of a comprehensive DMS is its capacity for OEM integrations. This integration enables dealers to manage parts orders more effectively and interface directly with key manufacturers and aftermarket suppliers to automate order submissions.
Consider that DIS has OEM integrations with over 250 manufacturers including John Deere, CNHI, Kubota, AGCO and CLAAS. Beyond OEM integrations, a modern DMS with reliable parts and inventory management allows your business to track and access detailed service history on any piece of equipment.
And with machine data becoming an increasingly valuable commodity, dealerships that can leverage their DMS to compile deep, detailed parts and inventory management information can gain a competitive edge and improve customer service.
Now think about these additional capabilities that should be part of a quality DMS to further streamline parts and inventory management:
Automated parts ordering based on seasonal min/max numbers
Easy transfer of parts inventory between stores
Point of sale functionality to process counter transactions quickly
Integration with EMV chip-based credit card payments to speed up payment processes
Is your current ERP system checking all the boxes when it comes to inventory management? Does it connect the logistical dots to other areas of your dealership including service, rentals or employee training?
If not, our next question unpacks the integrated value of a DMS that allows you to work smarter, not harder managing the workflow of your entire dealership.
What are the benefits of a DMS?
Researching a management software upgrade can be overwhelming, but it doesn't have to be. If you'll still reading, you've likely identified at least one weakness within your current system. And the integrated benefits of a robust DMS could uncover additional avenues for improvement.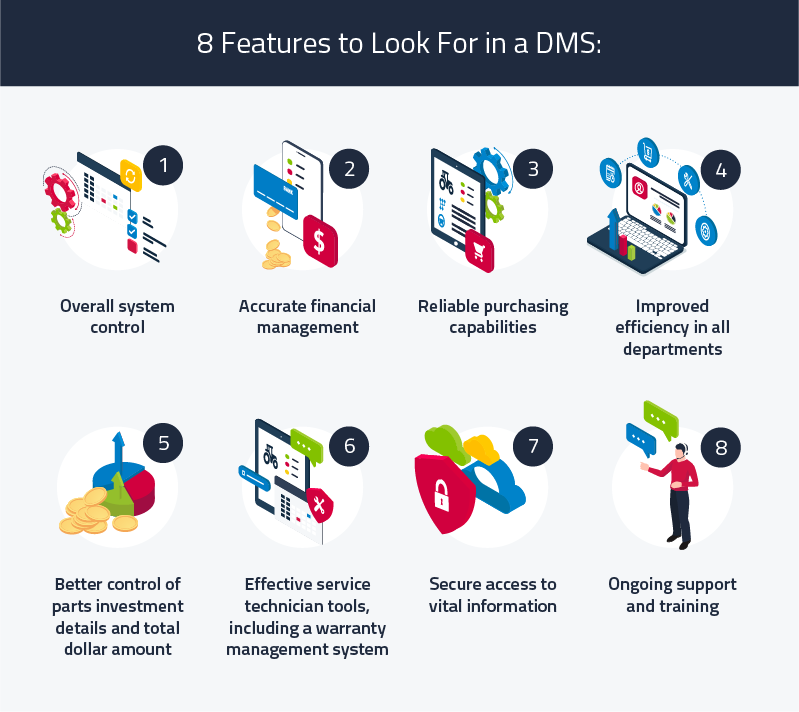 Start by looking for these 8 features when narrowing your DMS search:
Overall system control
Accurate financial management
Reliable purchasing capabilities
Improved efficiency in all departments
Better control of parts investment details and total dollar amount
Effective service technician tools, including a warranty management system
Secure access to vital information
Ongoing support and training
A DMS should integrate every aspect of your dealership into one seamless ecosystem and simplify solutions to complex problems – before they occur.
Think of it this way: if you oversee a multi-location dealership you can't afford to have recurring challenges getting accurate, timely and concise efficiency reports from each location. If your current ERP can't automate the reporting from each location, how will the business effectively expand?
Pouring over lengthy reports to get critical performance metrics is Band-Aid solution that continuously costs time and money. A more surgical solution can allow you to create a dashboard of the most valuable operational metrics to compare each location and make more efficient decisions.
Learn more: Dealership Management System Features to Look For
How specialized does my DMS need to be?
Upgrading business software solutions isn't an overnight decision, both from a logistical and economic standpoint. But the more specialized you can get, the better off you and your customers will be overall.
Take Iowa-based Hodge Material Handling, an 800-employee, 24-location business spread across five states. The company recently reached the point where it outgrew its ERP and transitioned to a more scalable DMS.
"We were using an ERP system for our business and accounting to run all our service and parts businesses; unfortunately, it wasn't really made for a dealer like us," says Michael Fullan, director of information experience at Hodge. "There was a lot of customization to get it to 'mold' for our company, so it wasn't very user-friendly for what we were trying to do.
"We implemented DIS to help us manage our business better. We also wanted a product that was 'out-of-the-box,' but still tailored for our industry and us as a dealership. Different KPIs and benchmarks to help us run our business better in both our parts and service departments was also top of mind at the time."
Think about the impact that more streamlined management of your service department can have on shop efficiency. This can increase margin and reduce the amount of time techs are spending on tasks that can be automated by a DMS.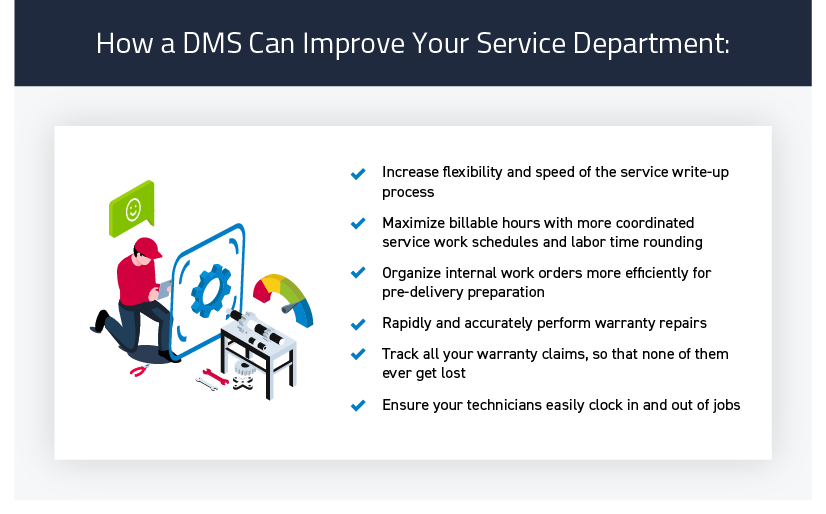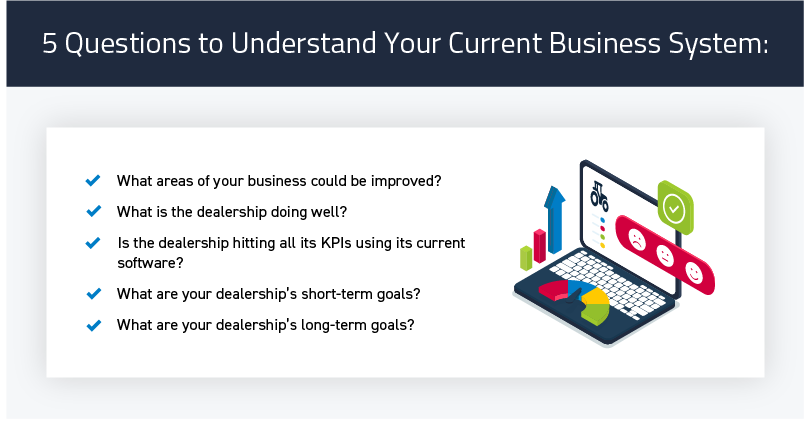 Ask yourself these 5 questions to start understanding if your current business management solution is going to fulfill your future needs:
What areas of your business could be improved?
What is the dealership doing well?
Is the dealership hitting all its KPIs using its current software?
What are your dealership's short-term goals?
What are your dealership's long-term goals?
Did you identify specific operational voids within your business? Can your current management software fill them? Should you be looking into an upgrade or expansion? How does a DMS compare to an ERP?
Whether you are just starting to evaluate the performance of your current ERP or are well into researching a transition to an advanced DMS, we've assembled answers to key questions to support and simplify your decision-making process.
Selecting a DMS that suits your industry-specific service department needs can:

Increase flexibility and speed of the service write-up process
Maximize billable hours with more coordinated service work schedules and labor time rounding
Organize internal work orders more efficiently for pre-delivery preparation
Rapidly and accurately perform warranty repairs
Track all your warranty claims, so that none of them ever get lost
Ensure your technicians easily clock in and out of jobs
Now that you're equipped with some comparative knowledge, we hope you have a better understanding of how to evaluate the performance of your current business management software.
If it's time for an upgrade, read our guide on how to select the right dealership management system.