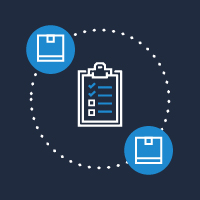 Do you have full control over your equipment dealership's inventory? "Control" in this scenario refers to managing all aspects of your dealership's inventory – from purchasing, shipping, receiving and tracking, to storage, turnover and reorders.
And in order to have complete control, you must know how to conduct a proper inventory count, which – as it turns out – isn't something many dealerships do as well as they should.
So today, we want to talk about how to set up and execute an inventory count efficiently…
Step 1. Plan a physical count
Many equipment dealerships think that purchasing software to keep track of inventory is the easiest way to keep control, but where are you getting these quantities to input in the first place? The best way to get started, as dreadful as it might sound, is to physically count your inventory. Create a date and plan to get this done.
We recommend doing this at the end of each year. This is typically the slowest time of the year and gets you in great shape heading into the next year. You should also plan your annual physical inventory process no later than 12 weeks before the count date and clean the stock area no less than two weeks before.
There are 3 methods for conducting a physical inventory count:
Barcode readers: This is the most accurate and expensive way to count because you need a barcode reader and items/bins to be labeled. You also need software to register each count. This method is usually more accurate though because human error is reduced.
Count sheets: A count sheet is an 8 ½" x 11" size paper that lists roughly 25 inventory items. Make sure the counters take into account misplaced material or products not listed as they count the items listed on their sheets.
Count cards: These index cards should contain the individual product and bin location and be placed on the shelves or bins before the count date. You can then quickly count each bin and record the information. Blank card should be brightly-colored and don't forget to provide extra cards to accurately record misplaced merchandise.
Depending on which method you use, be sure to assign employees to certain bins/areas. If you use the barcode method, you will usually only need one person. If you use cards or sheets you might consider using two-person teams.
Step 2. Execute the count
Begin by breaking up your counting into small groups. That way, no one is overwhelmed. Create maps of stocking areas that include every shelf, bin, drawer, receiving dock and return area. Divide each stocking area by geographical areas, not product lines. And then, start counting!
When each counter finishes a specific area, let a manager or someone else verify the count. Start with items that bring in the most money and have the most turnover (these are most likely to contain the most counting errors).
And remember, don't fill or process orders during the counting process!
Step 3. Cycle-counting
To ease the burden of counting one time a year, consider cycle-counting throughout the year. This is a method that takes inventory counts of different areas over the course of the year, which usually leads to more accurate results because you're focused on specific areas.
The easiest way to cycle-count is to break your inventory down into "rankings." This way, you'll count your inventory items with the larger number of dollars flowing through your inventory more often than your slower-moving products.
Advantages of inventory control
Successfully planning and executing equipment dealership inventory counts will give you inventory control. And when you have inventory control, you rest easy knowing your capital is not tied up in inventory or that there are no problems with the production or supply chain.
Using a computerized system or software with inventory control (like DIS Quantum) will help you:
Increase profitability
Have enough stock on hand
Reduce inventory write-offs
Conduct audits more quickly and efficiently
Know exactly what you have on hand
"We implemented DIS to help us manage our business better," said Michael Fullan, the Director of Information Experience at Hodge Material Handling. "We also wanted a product that was 'out-of-the-box,' but still tailored for our industry and us as a dealership."
For more information on inventory counting, download our Inventory Counting Guide today!