Now that we've covered the different ways that you could begin to bring digital solutions to your service department, this guide will give more specific tools and solutions for each area of your service department. We'll dive deeper into the specific kinds of tools you can offer technicians, the service office, and customers. Different tools will be better suited for different areas of your service department. Recognizing where they fit in will help your service department operate more effectively.
Table of Contents
Digital Tools for Your Service Department's Technicians
Implementing digital solutions for your service technicians is one of the more significant challenges of digitally transforming your service department. That's because they might work in the shop or in the field, they might work during work hours or outside of work hours, and so on.
Early digital solutions were computers. However, the downside of using a desktop or laptop is that's sitting somewhere in the shop or sitting in the truck. This means the technician still needs to stop what they're doing and walk to the computer to access it. Laptops are not as mobile as you might think either. If a technician is out in the field, they might not be able to get a wi-fi connection.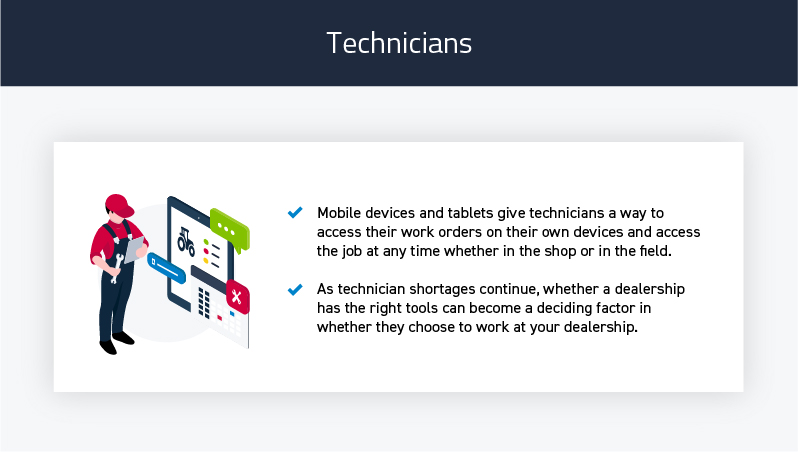 Mobile
Newer digital solutions should be able to operate on mobile devices and tablets. This gives technicians a way to access their work orders on their own devices. They can also access the job at any time – whether in the shop or in the field. It's more common for a technician not to get a wi-fi connection than they are to lose a cellular connection.
The other aspect to consider is that technicians want to work for a dealership where most of the paperwork is eliminated, and more advanced tools are being used to increase efficiency. As technician shortages continue, whether a dealership has the right tools can be a deciding factor in whether they choose to work at your dealership.
Read Next: 10 Ways to Use Technology to Cope with the Technician Shortage
Digital Tools for Your Service Office
It's not uncommon for the service office of a dealership to manage hundreds of jobs. To manage these jobs, shops will often divide work orders into multiple jobs. But no matter how good your service manager is, if they're using manual processes to keep track of jobs, they will still end up losing time or the information they have will not be the most up to date for customers.
Things can quickly get out of hand as parts go missing or as technicians start work on other jobs waiting on parts to come in for another. It takes time to manage those changes.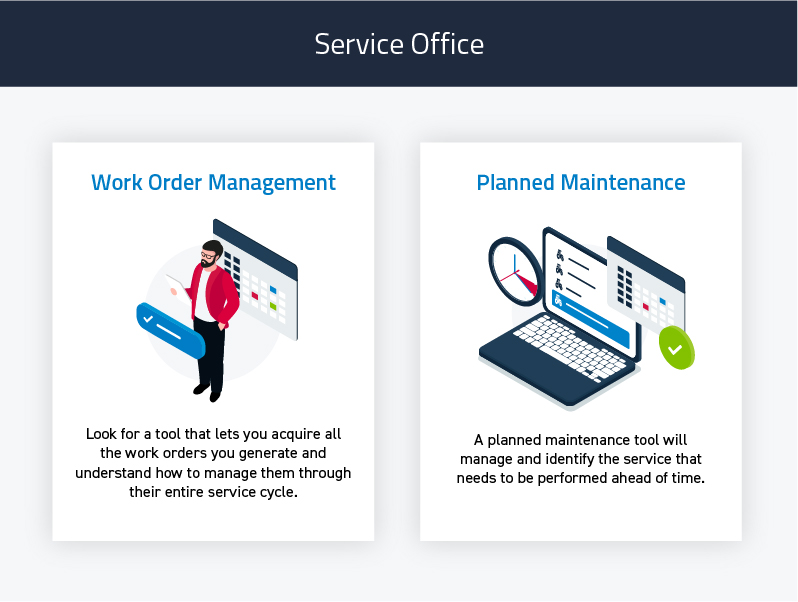 Work Order Management
How often are technicians waiting for service managers to give them a work order? Good planning should ensure that a technician always knows what they're doing so they can prioritize their work. But this is easier said than done in an environment where priorities are constantly changing and jobs are put on hold for various reasons, shifting plans completely.
Some service departments use a wall system with sticky notes to manage work orders, but the notes are outdated very quickly. Other dealerships try to adapt scheduling tools that were optimized for office workers, such as Windows Outlook. Even spreadsheets still take time to update.
When looking for a dealership management system to fit your needs, look for software specifically designed for ag equipment dealers to manage work orders. These tools should let you acquire all the work orders you generate and understand how to manage them through their entire service cycle – from assigning the work order to a technician to invoicing the job when it's completed. This might also mean considering a cloud-based or on-premises solution and whether it will integrate with your dealership management system.
Planned Maintenance
Planned maintenance is a guaranteed stream of work, even without the equipment failing. It gives your dealership lifetime access to that equipment and can become a recurring source of revenue. As equipment becomes more sophisticated, more customers are willing to bring in their equipment for planned maintenance. However, the list of things to look at when trying to do planned maintenance can get very long, very quickly.
Does the equipment need oil changes and battery checks? Does the equipment need to be checked every three, six, or nine months? Is the equipment brought in every 1,000 hours, every 5,000 hours, or 10,00 hours? These are just a few things to consider. But a good software tool for planned maintenance can help you manage and identify the service that needs to be performed. There are tools that can automatically convert these opportunities into quotes and notify customers of when they can come in for servicing.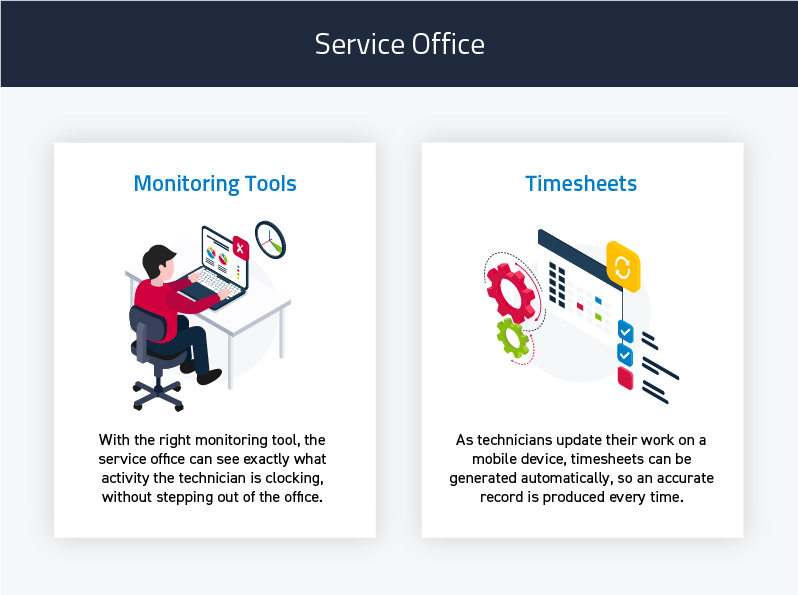 Monitoring Tools
Implementing digital solutions within your service office will give you greater visibility into monitoring what happens throughout the service department. Computer and network technologies give you the ability to share data and monitor service progress in real-time, also known as telematics. You can monitor the technician on the job and the status of the equipment instantly. This isn't possible when using paper or whiteboards.
With the right monitoring tool, the service office can see exactly what activity the technician is clocking, without stepping out of the office. They can also know if the technician received the work order or if they need help. If you can see it in real-time, you can react to it at the same time.
Read Next: Five Keys to Understanding Your Dealership Network
Timesheets
Once your service department is mobile and the devices are all networked, it also makes sense to eliminate the use of paper time sheets with a tool that your technicians can use from their mobile devices.
As the technician updates their work on a mobile device, the tool can generate the timesheet automatically. This produces an accurate record every time. The service office can always go in and edit if needed. But, the baseline is there as the job is worked on; the timesheet is seen as it's being developed. It's also helpful to find a timesheet tool that integrates with the payroll software to eliminate manual data entry.
Digital Tools for Your Customers
The preferred method of communication for most business and customers nowadays are text messages. Many service customers have become more mobile, so your dealership ought to leverage the usefulness of text messages as a tool. Text messages let your service department stay in touch with customers and provide them with updates as needed, reducing the number of phone calls that come in and out and delivering a better customer experience.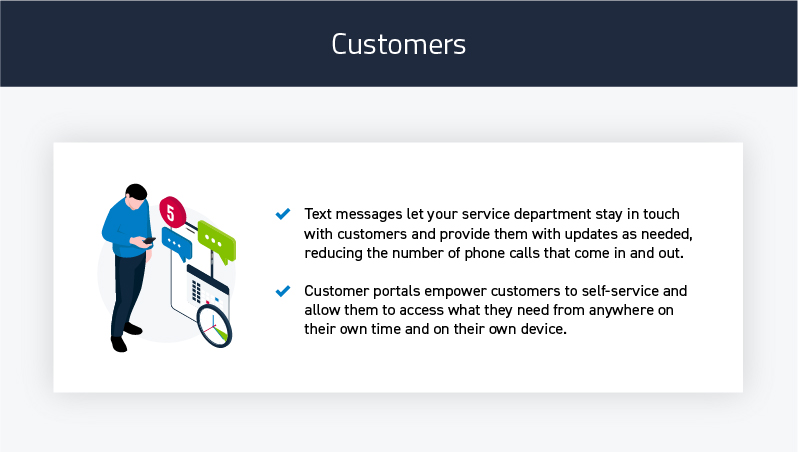 Customer Portals
Another tool to consider is customer portals. This applies to how you manage customer support for your dealership. Customer portals empower customers to self-service and allow them to access what they need from anywhere on their own time and on their own device. It's also becoming more common for different OEMs to offer customer portals. With customer portals, customers don't need to call and ask for a copy of an invoice or a statement. They retrieve it when they need it.
The tool should help you see what customers are doing on that portal but also have the proper authentication and permissions in place that will prevent customers from seeing another customer's information. Customer portals also let customers send messages directly to your service department, eliminating phone tag.
Other Things to Consider
As you consider the different tools to implement in your service department, choose ones that can meet the challenges of your dealership but also accommodate its strengths. This may mean starting small at first with one feature to implement instead of changing everything all at once. Starting with one small change can also help your service department from feeling overwhelmed by the changes.
Read Next: How Western Implement Bridges Technology and Generational Gaps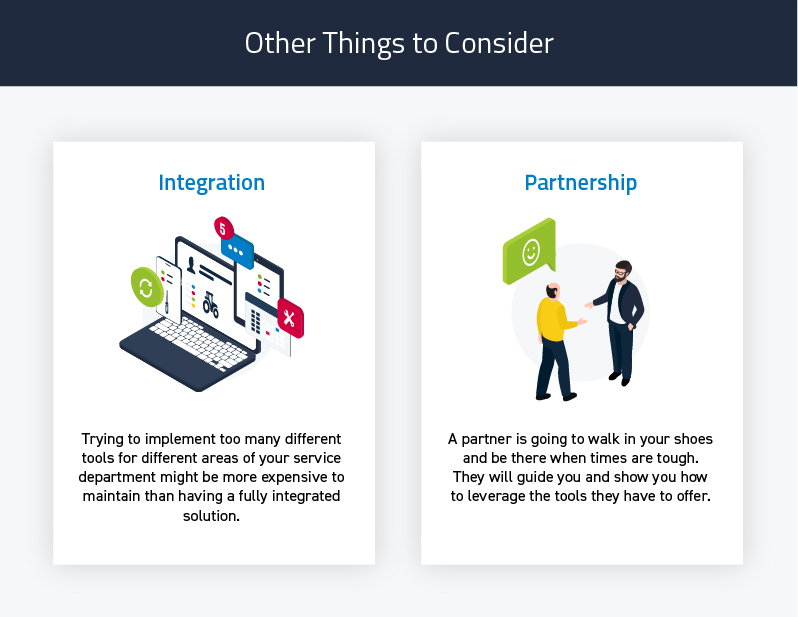 Integration
Start to see how the different tools and areas work together. Integrated software tools deliver the best value. If an employee makes a change in one area, then that information is instantly available in another area of your service department. For example, if your service office sends a text message to a customer, then they immediately know when the text has been received.
You don't need a fully integrated solution up front. But, it's worthwhile to consider as your business grows. Implementing too many different tools for different areas of your service department might be more expensive to maintain than having a fully integrated solution.
Look for a Partnership
When you're looking for these solution providers, there's a difference between buying from a vendor versus buying from a partner. The vendor is going to sell you stuff but then they're going to put you on the shelf without any afterthought. A partner is going to walk in your shoes and be there when times are tough. They will guide you and show you how to leverage the tools they have to offer.
KISS – Keep it Service Simple
As you move from paper to digital, talk to your employees about how the transformation is going to be and how they will be affected. They'll be the ones that the changes are going to impact the most. Start the discussion and bring them in early on. It may seem difficult at the beginning, but the benefits of a digital transformation are there. Most of the time, you don't have to overthink things and instead go with simplicity.
Are you curious to see how DIS Service 360 can digitally transform your service department?
Click below to learn more about DIS Service 360.