How One of the Biggest Farm and Construction Equipment Dealers in Western Colorado Bridges Technology and Generational Gaps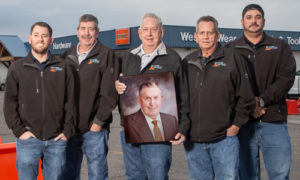 One of the special things about equipment dealerships is that so many of them have been in the family for generations. Many current Dealer Principals grew up helping their parents around the dealership. They know the business like the back of their hand.
Dylan Coleman is one of these people. He's one of the Dealer Principals and a fourth-generation family member at his family's farm and equipment dealership, Western Implement. He and his father run the dealership day-to-day at both their locations in western Colorado.
Western Implement was started back in 1959 by Dylan's great grandfather. They were a Ford dealer at the time and over the years, they took on other lines as well. In 1974, Dylan's grandfather flew out to California and took on Kubota—he thought it was going to be the next big thing, even though Ford tractors were their bread and butter. Now Western Implement is one of the largest dealerships in the region of Stihl chainsaws and other power equipment, including Kubota farm and construction equipment. An indication of how forward-thinking he was and a trait that has been passed on to Dylan.
The farm and construction markets are changing—spurred by the COVID-19 pandemic and changes even before that. Equipment is becoming more technical. Dealers require more comprehensive software systems to manage their businesses. The people buying equipment are changing and so are the people selling it to them at dealerships.
We sat down with Dylan to find out how Western Implement is tackling these changes in the market by diversifying their product lines and training up their team on new tech.
Can you tell us a bit about your day-to-day at the dealership?
Dylan: My duties involve anything from the wholegoods side of the business to our parts to our service and I do some selling too. We have a Manager at the Montrose store but I'm up there a couple of times a week. I wear a lot of hats. [laughs]
What sets Western Implement apart from the competition?
Dylan: What makes us unique is we're not only just a dealership, but we also have a full-working hardware store—kind of like a mini-Home Depot. That's something you don't see at a lot of dealerships. We can provide customers with the equipment, the service, and the parts. Then, when they come into our dealership, we can take care of anything they need for their farm or ranch, from livestock panels to gates and fencing.
Our diversity in the market and our ability to sell a wide range of products have helped us weather the storms of the ups and downs over the decades.
How long has Western Implement been using DIS?
Dylan: We made the switch back in 1984. We were with a system that was strictly parts inventory management. So, it wasn't tailored towards equipment dealers. Word got out that there was a group that owned a Ford dealership and a couple of the people split off and created DIS. It was geared and tailor-made for Ford tractor and implement dealers. That's why we made the switch.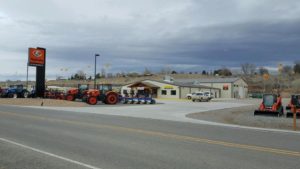 What challenges do you face by selling such a diverse range of products? How do you deal with them?
Dylan: We're using DIS to manage all of our hardware, so we don't have to have multiple systems. It was really hard to be able to quantify everything we did when it was just dollars-in, dollars-out with the hardware store. With DIS, we were able to bring all that product in and use the DIS business system to run it.
The biggest challenge we face is on the equipment side. Being a dealer that sells two to three major brands, it's hard keeping every manufacturer happy. Everyone wants the lion's share of the business. Nobody wants to play nice with each other and they all want you to give them all your business. There's been more of that in the last five or six years. We've been moving more towards the Kubota brand—they're our big seller.
That's probably going to be one of the biggest challenges moving forward. With all the dealer standards, keeping up with the training, everything that goes into it—it's hard to be able to do everything well.
We've realized that in this day and age, with the demands of manufacturers, and with the technology too, it's not like back in the '90s. You can't just hire anybody in the shop or a salesperson to work on the equipment and work on it. Now, it's gotten so technical and there are so many different programs to be able to take care of the customer well, that you just can't do it all.
You have to make decisions about how you want to move forward in the equipment business and who you want to work with.
It sounds like you're seeing a need for teams to become more specialized in a particular manufacturer.
Dylan: Absolutely. You almost have to be, with their certification, the way they grade you as a dealer, and the demands they put on you to make you an elite dealer. They all have their certifications and their training requirements, and you can't keep up with it all.
But the bottom line is you want to take care of it so you can take care of your customers. Everything is so computerized and highly technical that you almost have to specialize.
How have the DIS Kubota integrations helped with this?
Dylan: They've been very helpful, especially during the busy season on the parts side. Our people that do the ordering for Kubota don't have to switch between multiple screens to order. You can use the DIS Quantum system to do a lot of your stuff for you, so it just saves a lot of time for our people. The efficiency that we've seen—it's definitely helped.
What other DIS features have had the biggest impact on your business? Can you give me a before and after?
Dylan: What I enjoy most about the Quantum system is that it's Windows-based. It's a lot easier to teach new hires when it's Windows-based. With Quantum, it looks and feels like what this generation of people expects.
What I use most is Management 360 and our sales guys use Sales 360 a lot. They've been great tools for us. I also use Sales Logistics—that's a neat feature that dealers need to look at for their sales team. You can be out on your equipment lot and have pricing and inventory right at your fingertips while trying to talk to people.
You mentioned that DIS Quantum has helped with training new hires. Can you talk more about the technology gap that many dealers face?
Dylan: I think this is probably everybody's biggest challenge—the gap. In the Ag business, a lot of the time, it's hard to find people from the younger generation who want to come into this business. So, while you're dealing with the younger generation, you're also dealing with a lot of the older generation who are still trying to use all this technology. Our biggest challenge is hiring people and bridging that gap between the older folks that you hire and some of the newer ones.
With Quantum, it's definitely a lot easier to get people to see, intuitively, the process of how you create an invoice or ordering.
But the challenges aren't just with business systems—it's also with the technical tools that it takes to diagnose problems on the equipment. You have to invest a lot of time in the team you hire to send them to classes to learn how to use the tools to do their job effectively.
Now that your dealership is focusing more on Kubota equipment, would you recommend DIS to other Kubota dealers?
Dylan: Oh, absolutely. I think that the more DIS and Kubota can integrate to help us move forward, the better. I would definitely recommend it.
Learn more about the DIS Kubota Interface Bundle.
What has your experience with the DIS team been like, over the years?
Dylan: It's overall been pretty good. I've been involved with the business for fourteen years now. I did a lot of the computer and IT stuff on a very broad level. But being able to work with the techs at DIS has always been very helpful. I don't really have anything but good to say about my experience over the last fourteen years with DIS.
Got any tips for other dealers shopping for a new DMS?
Dylan: As far as what to look for in a system, the biggest thing is the ease of operations, what it can do for you in all aspects of your parts, or service or sales. See what fits for you.
Want to learn more about DIS? Click here to see how DIS powers Ag dealers.