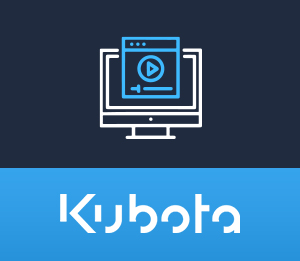 We are delighted to announce that they will now be offering a Kubota Interface Bundle. This bundle is part of the ongoing efforts to invest in Kubota interfaces to power Kubota dealerships.
For a one-time fee equaling the price of one interface, Kubota dealers will now be able to access seven interfaces. Some of these interfaces are available to use now, while others will be rolled out over the next few months.
The Kubota Interface Bundle will include:
KubotaNOW Telematics : Drive service department activity with accurate machine status information.
Parts Locator : Transmit your parts inventory and view parts from other dealer locations in KubotaLink.
Parts Order : Retrieve billing and shipping methods, validate addresses and parts, and submit orders over the web. Using this interface will raise your Orange Points for Kubota discounts.
Dealer Analytics – Trial Balance : Simplify your end-of-year financial requirements for certification.
Kubota Warranty : Validate unit serial number, validate campaign status, manage claims via your preferred process, and submit claims with data from Quantum.
Kubota KPAD : Maintain your access to the Kubota Parts Manual via Quantum's migration to the new Kubota specification.
Kubota K-Commerce : Manage part sales on the new Kubota eCommerce Platform, monitor incoming requests, and process orders without rekeying.
"We at DIS have put an immense effort over the last year to deliver valuable interfaces to the over 200 Kubota dealers we serve" says Randy McIntyre, General Manager at DIS. "We are doubling down on our commitment to both our customers and to Kubota Corporation, and we are excited to be able to deliver seven interfaces to our customers for the price of a single interface to help dealers get the most value out them all. "
Kubota dealers are encouraged to reach out to their DIS Account Managers to learn more about the Kubota Interface Bundle.