How A.C. McCartney's Service Team Manages Jobs Accurately While on the Go
When your team feels supported, they can serve your customers better.
A.C. McCartney is a farm equipment dealer offering Fendt, Massey Ferguson, Gleaner and AGCO products, among others. They first opened in 1950 in Durand, IL by Allen McCartney. Al's motto was, "Take care of the customer and you will be successful." That attitude still drives their business today, across their five locations across Illinois.
We spoke with two ACM team members who are right in the thick of serving customers: Dawn Elizabeth, Service Writer at ACM's Carthage location, and Ben Holt, Warranty Administrator at ACM's Wataga location. They shared how DIS Service Logistics and DIS Service Scheduling, key features within the DIS Service 360 service productivity suite, help their team take better care of customers, while also making their own lives easier.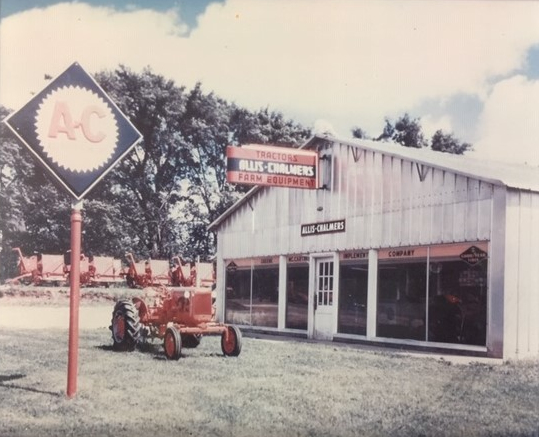 Dawn, tell us about your day-to-day at ACM.
Dawn: "This is my third year at A.C. McCartney. I assist the Service Manager with scheduling jobs for technicians, keeping track of inventory going in and out, making trucking schedules, a variety of things going on at any given moment. It's always crazy busy back here, keeping track of the technician's time."
Ben, how about you?
Ben: "I've been at A.C. McCartney for 11 years. I handle all our warranty administration and quite a bit of IT too. I'm sort of like an assistant corporate service manager."
Dawn, what are some of the biggest challenges you faced in the service department?
Dawn: "Oftentimes, technicians forgot to punch in things, or you're typing stories from their terrible handwriting onto tickets and trying to get them to write their stories onto the tickets of what they've done, and have it turned in so we can get it billed out.
When I first started, I convinced them to buy little recorders. So maybe we could get them to record their stories versus handwriting because it was difficult to read them. Some of them were willing to do that – but it didn't last long with the majority of them."
What challenges do you face on the warranty side, Ben?
Ben: "You may not get a story for a week or two weeks after the job is complete. On the warranty side, that can be an issue because sometimes I'm not getting a ticket until it's too late for me to claim. The technician may not sit down and write that story until a week or two weeks after the job's complete. So, then they're just sitting there thinking, What did I do? It may not be as detailed or as accurate as what it would be if you captured it at the time the job's done."
A.C. McCartney introduced DIS Service Logistics and DIS Service Scheduling to help their team manage jobs more accurately.
Dawn: "When I was approached with this program, I was super excited about it. I love to proceed forward with technology. So, I'm always excited about trying new things and moving forward."
Service Logistics is a dealership service productivity tool that makes it easy to manage work orders, maintain timesheets, and complete jobs faster – all from your mobile device. When used together with DIS Service Scheduling, you can schedule, prioritize and track work order statuses quickly and efficiently, while also tracking technician progress.
Dawn's Favorite Features:
Mobile access to service workflow
Quick work order creation
Drag-and-drop scheduling
Priority level job queue
Ben's Favorite Features:
Accurate technician progress tracking
Detailed tracking for work in progress, parts, and more
Integration with DIS dealership management system
The results after introducing DIS Service Logistics and DIS Service Scheduling:
Accurate job records.
Ben: "Probably the biggest thing that's gonna affect us on the service saying is being able to get stories quicker and making sure they're accurate and the accurate capture of time. Cause I think and Dawn would probably agree with me on this one."
Dawn: "My philosophy has always been to work smarter, not harder. So, I started everybody on Service Logistics all at once. Most of them love it and recorded their stories. They're much more detailed about their stories and they're legible because they're being recorded."
Ben: "I think once we get into our busy season too, for us, which is spring and fall, I think we'll see that better capture of time and stories even more because we have quite a few technicians that'll be out in the field at that point. They won't have to come in and manually input their time. They're able to do it on the go. So, when they're out there working on a planter or a tractor this spring, they can finish that story before they even leave the job site, and boom—we're done and it's onto the next one."
Read Next: 5 Best Practices for Documenting Service Procedures at Your Dealership
Manage service scheduling on the go.
Dawn: "My daughter had two doctor's appointments three hours away from here. The service manager was able to text me throughout the day. I just carried my iPad in my purse, and I was able to schedule jobs and drag-and-drop them to technicians. We didn't miss a beat, and I love that capability. We can keep the system flowing even when I'm away from the office."
Better visibility into jobs in progress.
Ben: "Once we get everybody on working on Service Logistics, you would have a better overview of what's going on in your shops. If you have a shop that's lagging or not hitting the numbers, you don't have to go visit that shop and drill down. In Service Logistics, you can look at their schedules and say, Okay, you know, I can see we're working on the same job for a week and a half now. We've got to move this equipment out, what's going on.
I can see it helping to catch problems maybe before they happen, to help keep equipment moving through the shops."
What have both of your experiences been like with the DIS Support Team?
Dawn: "They've been great. Usually, at the end of the day, if I leave and they don't have a fix for me, I have an email with a fix for whatever the issue was the next morning. They're very on top of things and they usually respond promptly. And if they don't, usually they have worked on it and are sending me back a response with a solution.
Ben: "I will agree with Dawn on that, they've been very easy to work with and very responsive. They're quick to get back with things. That's been very nice. I've worked with some places in the past where, you know, sometimes you don't get a response for one or two days. In this industry that doesn't work for us. If we don't get a response in one in two days, we're not going to be using it."
Interested in learning more about how DIS Service 360 can help you streamline service at your dealership?