How Plevna Implement Manages Service Across Locations and On the Road
Meet Roby Duggan, Service Manager at Plevna Implement.
Plevna Implement is an agricultural equipment dealership. They've been in business for 75 years. Originally based out of Kokomo, Indiana, they have since expanded to two more locations in Auburn, Indiana and Nappanee, Indiana.
They deal with a wide range of brands, from MacDon to Ghel to Stihl, along with a range of eco, lawn and garden products.
Roby has been Service Manager at Plevna Implement for three years. In that time, Roby has helped establish systems for service across the entire business.
We asked Roby to share his experience using DIS to digitize his team's workflow.
A technician's typical day at Plevna Implement:
"Every technician has a laptop for diagnostics. But we'll use those laptops to allow the technician to clock in and out of work orders through Keystone. So, every laptop has DIS. Each technician has a workstation and a work area that they have their laptops located in.
If a technician ever needs to help another technician, he could just go to his workstation, clock in on the workload that he needs to clock in on. When he's done, he can just go back to his workstation and clock back on his work order through his computer."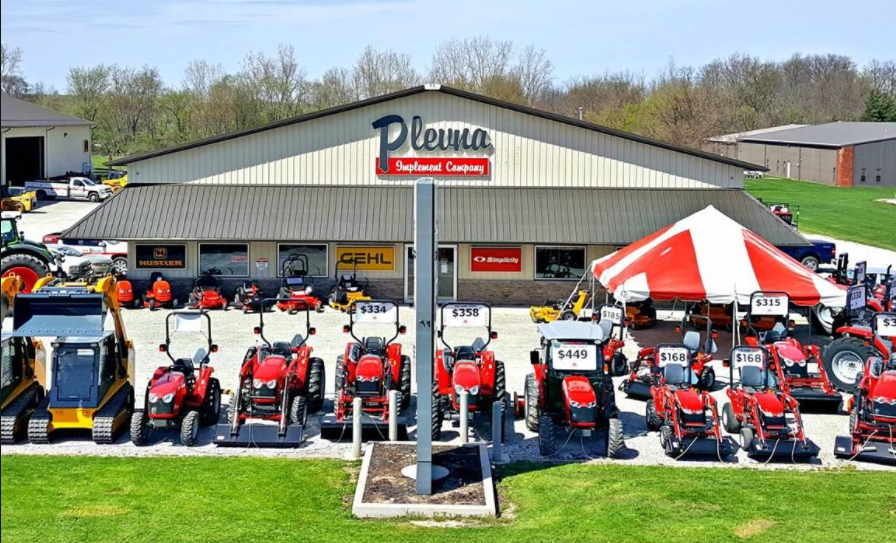 In 2021, Roby's team started using DIS Service Logistics Go and DIS Service Scheduling to streamline their work order management.
"It's very useful for the technicians to be able to access work orders with a click of a button, instead of actually typing in a work order through their computer. If the technician has, let's say, 10 work orders assigned to him throughout the day, he can swiftly clock in and out of work orders with the push of a button. And it does save time.
When we're on the road as well, you have to have some sort of signal, whether its Wi-Fi, internet–we're using our hotspot on the road to access DIS. So, we can clock in and out of tickets using the app on our phones."

Create and Schedule Work Orders Faster Than Ever
Roby's Favorite Features:
Quick Work Order creation
Drag-and-drop scheduling
Priority level tags

Manage Work Orders from Your Mobile Device
Roby's Favorite Features:
Mobile Work Order access from anywhere
Automatic timesheet creation
No more paper
How Service Scheduling helps Roby manage his team:
"Due to the volatility of the Ag world, the suddenness of how things come about, the diagnostic process, and how long things can take, it's a little more difficult to put timestamps on work. 'You're going to start at this time, it'd be done at this time.' Because if I tell a technician, 'It's going to start at this time and end at that time,' in a matter of the time, you could have two other jobs pop up that he may have to go on the road for. That's how volatile it is.
So, we had talked about the QA process and prioritizing jobs. With Service Scheduling, I can just put a priority and then drag it to a technician that I know is available. We create windows of time instead of actual timestamps.
I like the fact that it does black out the time slot that they clocked in and out of the ticket. It also has a gray area of showing you that they're still working on it. It's very handy for Service Manager."
How Service Logistics Go makes technician time tracking easier:
"Being able to punch in and out of tickets on the road. With the app, you have the ability to still punch statuses. Then when you get into a Wi-Fi area or a place with a signal, it updates all those things to the business system. The technician doesn't have to fear coming back later off the jobs and finding their time hasn't been punched correctly because they don't know if they're in a good area. It's very beneficial for the technician on the road to know that his time punches will hit the system once he gets back into a Wi-Fi area."
Assigning jobs to techs, without the paper-pushing:
"Before, we had a box on the side of each workstation that I would physically drop the paper into the box and write whatever notes I needed to write on there. But one benefit is that the phone is now their box. So instead of dropping physical papers in there, I drop that card on their phone and that becomes their box."
A smooth transition to digital service management.
"We've had good support coming into it. We were kind of hesitant and we did start with one technician, but as we went through, I wanted to get a lot of the knowledge first to be able to train the technicians if they had any questions. I used the DIS team throughout the process to get myself acquainted with it. And then once we started getting technicians on it and they had questions, I was able to answer them."
Would Roby recommend Service Scheduling and Service Logistics Go to others?
"Absolutely. I think it gives us a hint of what it could be like moving from paper to digital. The process has been good. Our technicians, they tell you as well that there's a benefit to them. There's a benefit to me. So, I'm excited to see where it goes."
Interested in learning more about how DIS Service Scheduling and DIS Service Logistics Go can help you streamline service management at your dealership?