When the average person thinks about an autonomous, self-driving vehicle, the first thing they'll think about is a Tesla rather than an autonomous tractor.
But before Tesla, the seeds of the first driverless tractor were planted in the early 20th century by Frank Zybach, the inventor of center-pivot irrigation and who patented an automatic tractor guide.
By 1940, the first driverless tractor was created by Frank W. Andrew. It used a barrel or fixed wheel in the center of a field with a cable attached to a steering arm on the front of the tractor. Pretty creative stuff, right?
Nowadays, autonomous tractors are equipped with GPS devices and motherboards. Technology has certainly come a long way and has affected how we conduct business across every industry.
Amidst these digital transformations, how can dealers leverage technology to run a more profitable dealership? We reached out to 5 ag equipment industry experts for their advice.

Click to Jump Ahead:
1. Use technology to save time and become more efficient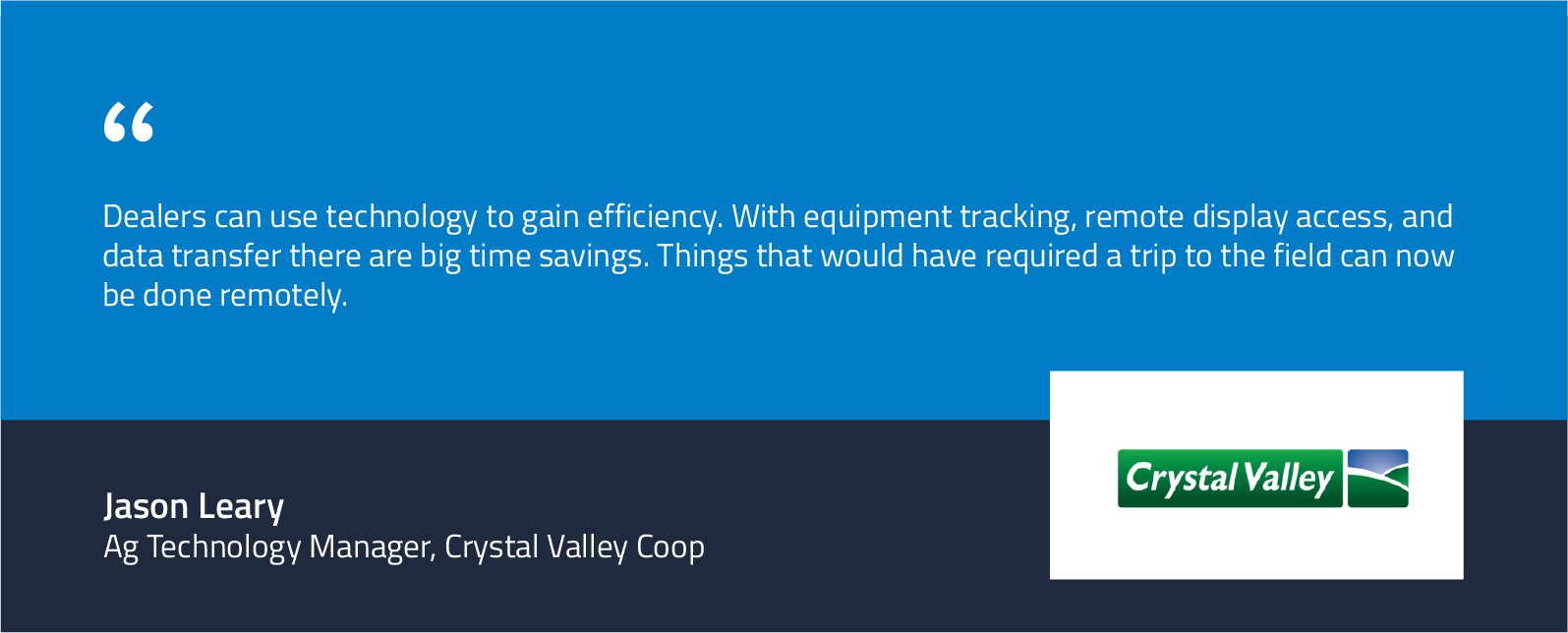 "I think dealers can use technology to gain efficiency. With equipment tracking, remote display access, and data transfer there are big time savings. Things that would have required a trip to the field can now be done remotely.

Data management is another opportunity, customers are looking for help to make sure their data, prescriptions, and guidance lines are organized and easy to use."
Jason Leary, Ag Technology Manager, Crystal Valley Coop
2. Create value for customers by solving their problems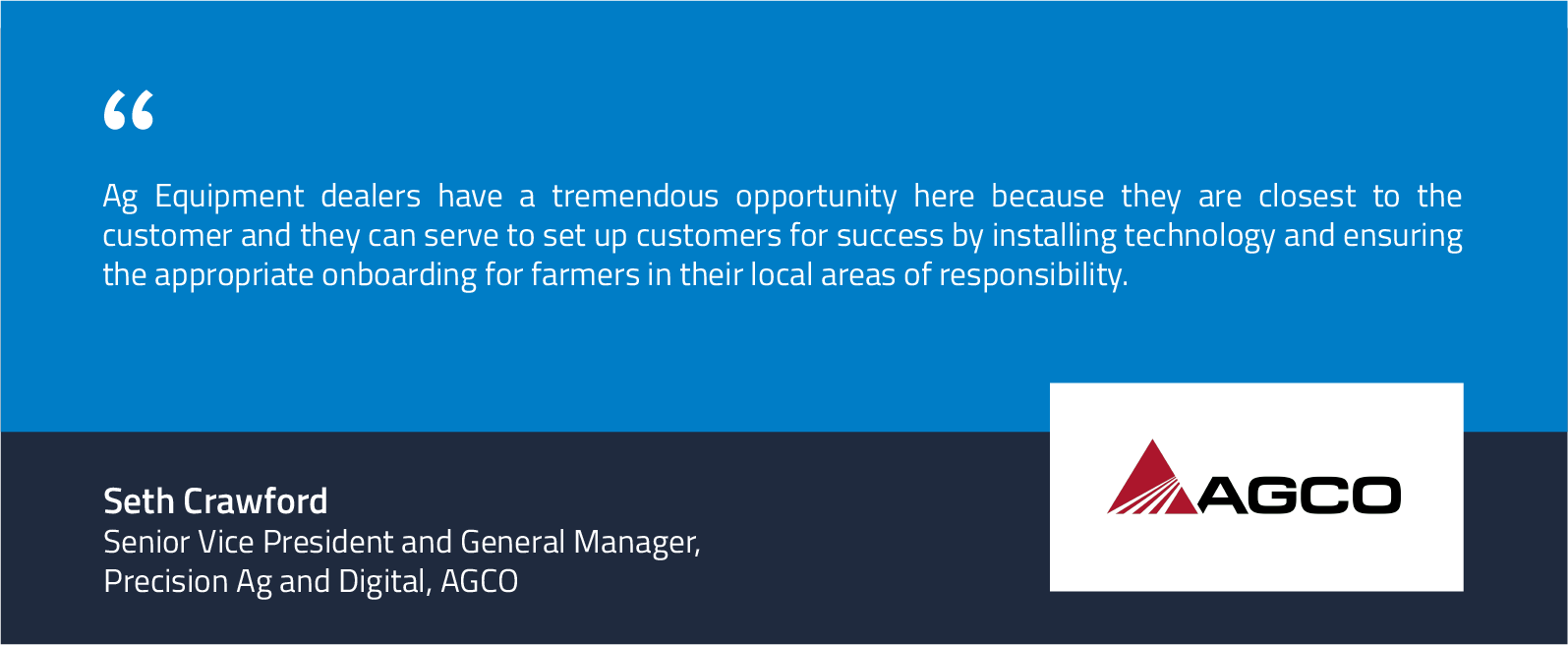 "First, let's remember that we create value by solving problems that our customers are facing. When we think of it this way, we quickly realize that farmers are often reluctant to adopt and integrate technology into their operation because of concerns about reliability and ease of use.

Ag Equipment dealers have a tremendous opportunity here because they are closest to the customer, and they can serve to set up customers for success by installing technology and ensuring the appropriate onboarding for farmers in their local areas of responsibility.

Plus, their geographic proximity enhances the perception of reliability because dealers can have 'boots on the ground' quickly to resolve issues that arise."
Seth Crawford, Senior Vice President and General Manager, Precision Ag and Digital, AGCO
3. Invoice customers for technical support – not just for work done on the machine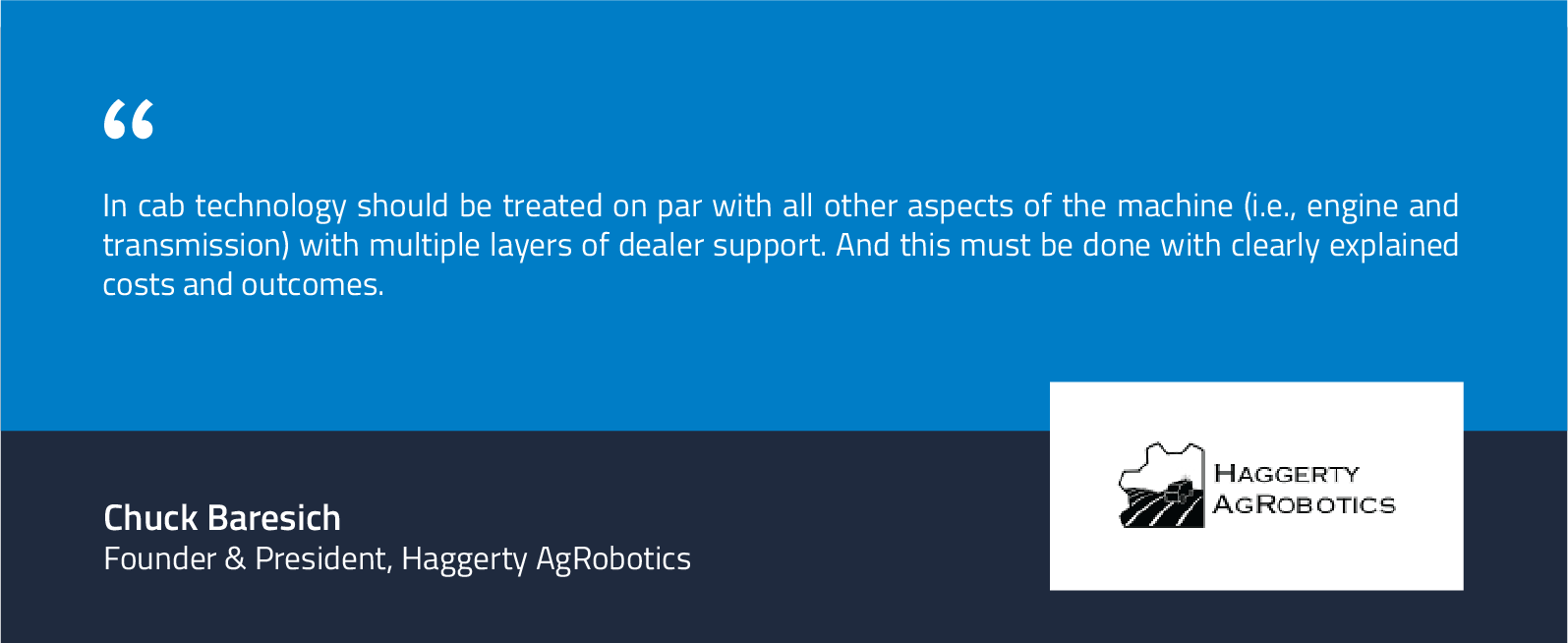 "This is a multifaceted question. One can argue that many dealerships have already embraced technology such as high-speed internet, online computer parts manuals, tracking of customer serial numbers and equipment for faster service, etc.

I would argue that farmers have demanded (and received) enhanced operational technology for the equipment – for example monitoring systems, tool management (end of row control), equipment automation (rate controllers), and machinery automation (steering, guidance, record keeping, etc.)

One of the challenges that I see when working with farmers, myself included, is that there sometimes can be a disconnect between the "computer" technology and the "iron" technology. While much focus has been placed on keeping the iron running, problems with the computers tend to be treated separately within the service departments.

This is despite the fact that, in many cases, a majority of the Service Managers' time is spent dealing with the field computer technology (how do I create an AB line, how do upload a VRA map, etc.).

This separation has resulted in the unfortunate consequence of not invoicing the farmer for the time spent dealing with the field computer technology and support.

This is not a sustainable situation.

As a result, customers tend to (and have become accustomed to) multiple years' worth of "free" product support and an unwillingness to pay for said support.

From the customers' perspective, the lack of integration of the support model within in cab technology often results in frustrating levels of support, and poor utilization of the product features. Phone calls for support are often not dealt with adequately, leading to an unwillingness to pay for invoices as often the dealer is "learning with them."

In cab technology should be treated on par with all other aspects of the machine (i.e., engine and transmission) with multiple layers of dealer support. And this must be done with clearly explained costs and outcomes."
Chuck Baresich, Founder & President, Haggerty AgRobotics
4. Embrace and utilize new technologies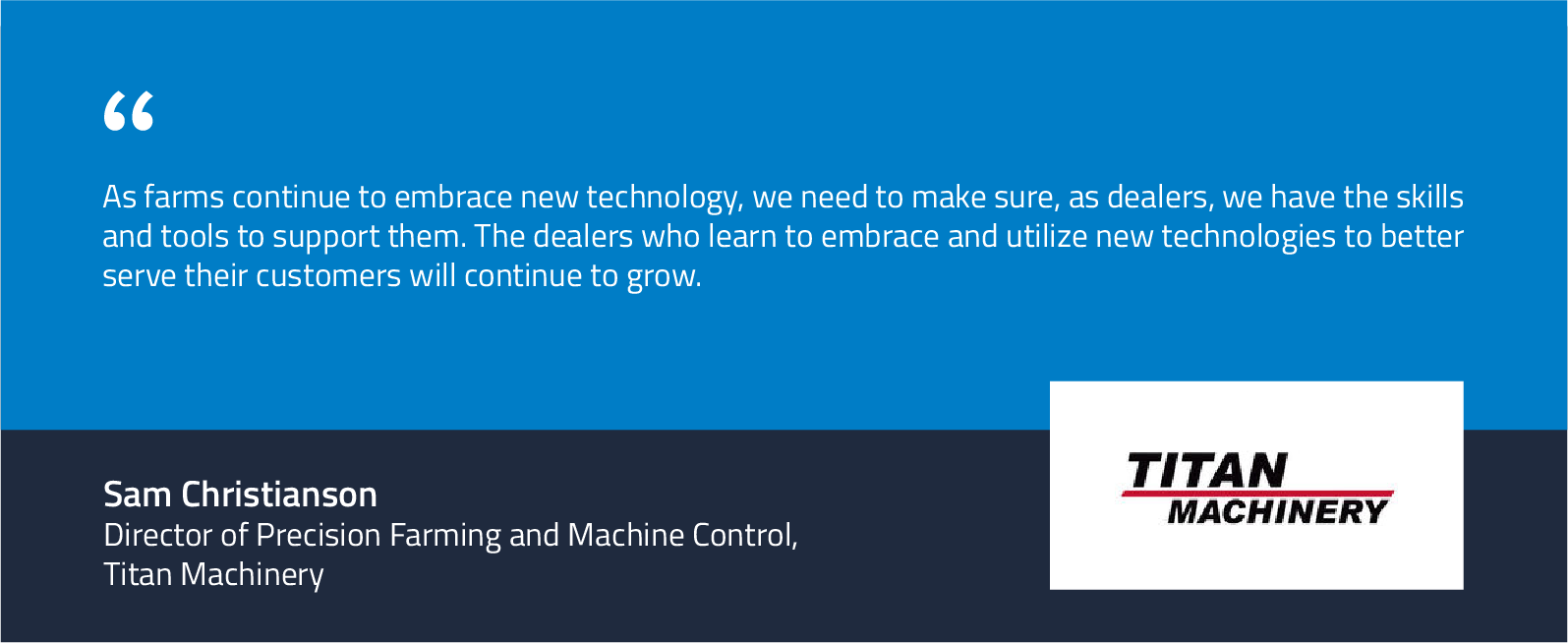 "Technology is the future of Agriculture.

The modern farm must use new technology to compete and grow.  As farms continue to embrace new technology, we need to make sure, as dealers, we have the skills and tools to support them.

The dealers who learn to embrace and utilize new technologies to better serve their customers will continue to grow."
Sam Christianson, Director of Precision Farming and Machine Control, Titan Machinery
5. Collect, manage, and understand the data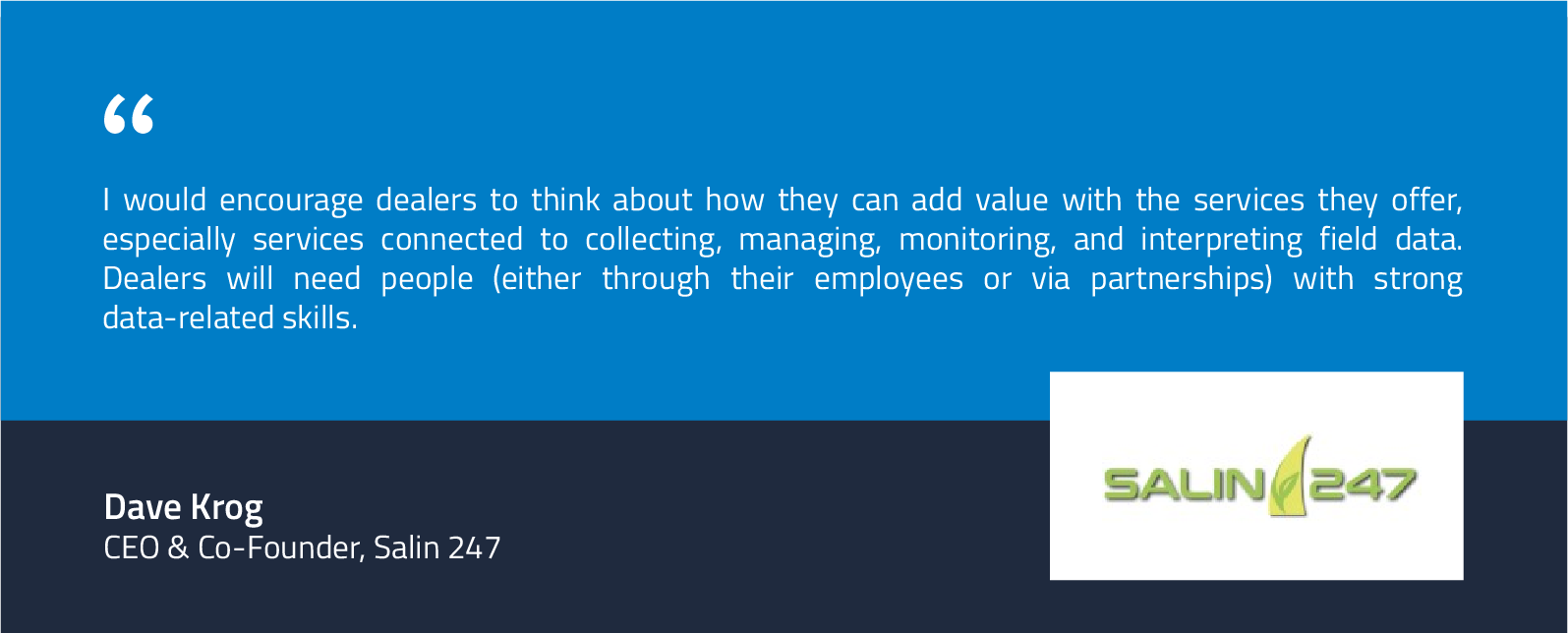 "First of all, I would say that ag machinery dealers need to start thinking about their role in a world with autonomous farm equipment.

How does their role and ability to add value for farmers change?

I probably can't answer that for them, but I would encourage dealers to think about how they can add value with the services they offer, especially services connected to collecting, managing, monitoring, and interpreting field data.

Dealers will need people (either through their employees or via partnerships) with strong data-related skills."
Dave Krog, CEO & Co-Founder, Salin 247
Final Thoughts
Farm equipment is becoming more digitized, more technical, and more connected than ever before.
As this happens, your dealership needs to be ready to face your customers' concerns when a piece of highly technical farming equipment goes down – not only with the hardware but the software too.
That means making sure that your dealership has the right digital tools and technology in place to increase service efficiency, improve communication internally between departments and externally with customers, and ultimately run a profitable dealership.
Want to learn more about what digital tools you can use at your dealership?
DIS Service 360 has your service department covered!