When your parts department is running like a well-oiled machine, everything else runs that much smoother too.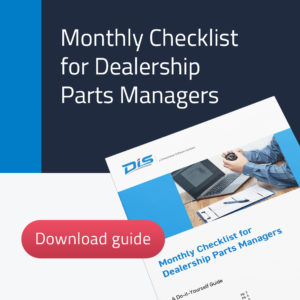 In any given day, Parts Managers may need to:  
Monitor daily numbers in your DMS Parts Manager  

 

Run daily reports

 

Review Special Order Requests from Service Department

 

Review open tickets

 

Check if parts are being received in a timely manner

 

Check that parts are in the correct location

 

Run a daily doc and compare it against your budget

 
 …and that isn't county the weekly responsibilities as well! 
To help you stay on top of your daily and monthly parts and inventory management responsibilities, we've put together a checklist based on our experience working with hundreds of dealership Parts Managers.   
This checklist is customizable, so you can add your own to-dos. Download it and pin it up in your workspace to help you stay on top of your ongoing responsibilities.   
Download for free: