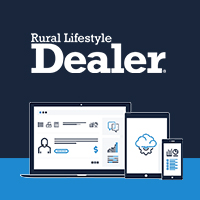 We are pleased to announce that Kevin Book, the Vice President and General Manager at Jacobi Sales, has given DIS a shoutout in his recent interview with the Rural Lifestyle Dealer magazine.
Founded in 1928, Jacobi Sales is an agricultural equipment dealership with seven locations in the Louisville, Kentucky, area. In 2019, it had the honor of being recognized as Rural Lifestyle Dealer's Dealership of the Year in the multi-store category.
According to Kevin, the DIS dealership management system has helped Jacobi Sales improve efficiencies across all departments and locations by allowing managers to see exactly what's going on in their area of the business.
"We use [DIS] to monitor our daily activities," said Kevin. "Each store manager sees what happens to his store each day. We have a business manager to watch that. It's really impossible to actually run a business today without a good business system. Our parts department uses it. We track aged inventory and we pay commission based off that business system. It's just a tool that we couldn't do without. I think it's helped us improve efficiencies in every department that we have."
If you'd like to hear more about Jacobi Sales' success, be sure to watch to Rural Lifestyle Dealer's video.